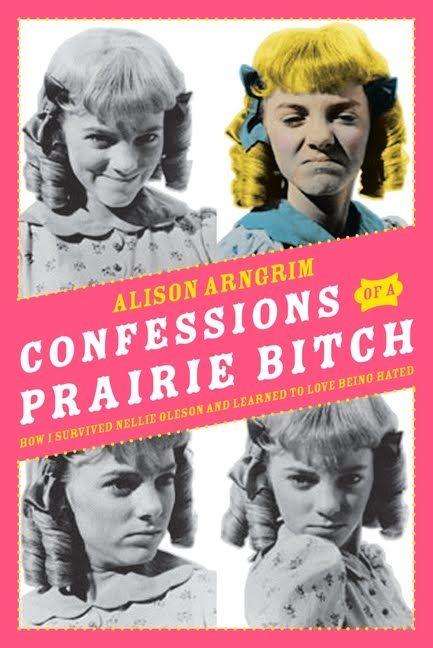 Alison Arngrim  will always be remembered for playing one of the most despised TV villains in the history of entertainment – rich and beautiful Nellie Oleson in the family favorite Little House on the Prairie.  However, what kind of impact would playing such a dislikeable and mean spirited character have on someone's life?  Now Alison Arngrim shares all the terror, turmoil and just plain weirdness about living a life as Nellie Olsen in her brand new book Confessions of a Prairie Bitch: How I Survived Nellie Oleson and Survived Being Hated.
Within her book Alison explains her strange experience of growing up in an eccentric show business family in Hollywood (her father was a closet homosexual who managed Liberace, her mother was the voice of Gumby and her brother was a sociopathic child star).  Obviously a bulk of her stories are filled with tales from the set of Little House on the Prairie, including her close childhood friendship with TV rival Melissa Gilbert, strange tales of her eccentric boss Michael Landon and the even stranger tales of real life prairie bitch Melissa Sue Anderson (who would have guessed that!?) Alison also writes about the mixed way that fans have treated her over the years.  It is often hard for the TV audience to realize that the actors on TV are not the characters that they play, and as a result of playing an evil bitch just a little too well Alison has been assaulted by schoolgirls, verbally abused by strangers and, even decades after she hung the wig up for good, has set viewers into a frenzy of rage.  Through her stories she offers a new insight into the behind the scenes reality of Little House on the Prairie, painting it to be, for the most part, a friendly working environment full of large personalities and devilish fun. 
But Alison Arngrim's book is more then just memories about her time on Little House.  There is a darker lining to the book in which Alison talks about a difficult childhood full of abuse and secrets.  Alison bravely and bluntly shares the painful and disturbing sexual abuse that she suffered at the hands of her brother, former TV child actor Stefan Arngrim (most famous for playing Barry Lockridge on Land of the Giants).  Often difficult to read, her relationship with her brother is a bold and personal story about the reality of incest, her parent's failure to recognize that something was wrong and the realistic way that Alison has dealt with her past.  From her abuse, Alison chronicles her involvement with the PROTECT Foundation that has helped change child abuse laws within California.  By going public with her story, Alison Arngrim successfully put a face to the victims of abuse.
Alison also writes about her close relationship with former co-star Steve Tracey who played her on-screen husband Perceval, and his battle with AIDS during the uneducated and uninformed era of the 1980's which prompted Allison to become one of the earliest volunteers and spokespersons for various Los Angeles based AIDS organizations.    A true crusader, Alison points out that by being Nellie Oleson she has helped bring a bit of good to the world.
Both a positive and funny woman, Alison Arngrim, who now performs as a stand up comedian in the Los Angeles area, is able to find humor within almost anything, and writes with a clever wit about even the darker parts of her life.  Obviously her optimism and sense of humor is what managed to get her through the hard times.  Confessions of a Prairie Bitch is not full of scandal or sexploits on the Little House set, but she isn't afraid to put the screws to the people who deserve it.  She paints a strange and almost nasty picture of Melissa Sue Anderson, although she seems to try to rectify it all in the end.  Meanwhile, it may be a long time before her brother will ever be able to show his face in public again.  Alison has painted him as possibly being the most deranged scum bag in pop culture history, and justifiably so.  Alison's stories are just realistic enough to know that she is telling the truth, making her a brave and courageous woman.  Surely Confessions of a Prairie Bitch will help others that are in a similar situation get help and know they are not alone.
Full of laughter and horror, Confessions of a Prairie Bitch is an enjoyable page turner which is a must for die hard Little House on the Prairie fans, or even those who only watched the show casually.  There is so much you don't know about Little House, and by telling us her stories wicked Nellie Oleson becomes our guide and friend. 
Click here to order your own copy of Confessions of a Prairie Bitch.