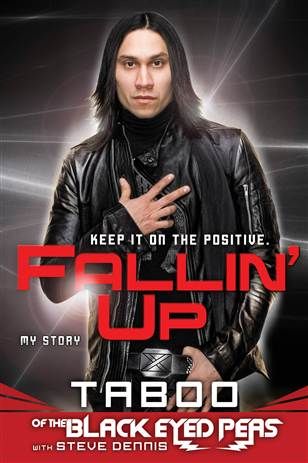 Sometimes the people that you have no original interest in can be the ones who weave some of the most compelling narratives.  Take for instance Jaime Gomez, better known as Taboo from the LA based hip-hop group The Black Eyed Peas.  Possibly the least vocal of the quartet which has had massive hits with My Humps and I Got a Feeling, The Black Eyed Peas is not a band I've ever really valued much (hip hop/rap just isn't my thing), and to be honest, I didn't even know Taboo's name until I received his book, Fallin' Up: My Story to review..  Looking at the impressive shiny cover, with a nifty holographic effect, I truly thought that Taboo was an odd subject for the first official book to be published about The Black Eyed Peas.  I mean, just who would want to read this?  Well, it seems that like many people, I initially underestimated Taboo.  Taboo has a tale to tell, resulting in a different type of "rags to riches" story to come out of the hip-hop/rap genre.
Born in the Boyle Heights area of Los Angeles, Taboo's story is like many kids from Los Angeles' East Side.  A kid from a lower income family trying to make sense of where he fit into the rough streets around him, Taboo seemed different from the moment he was born.  From a Native America/Mexican heritage, Taboo grew up in a primarily black neighborhood.  Yet, via his close relationship with his grandmother, Taboo found himself attracted towards music instead of gangs, and despite a disapproving stepfather and a mother who often underestimated his dreams, rose to the top of the music charts.  What makes Taboo's journey unique is that despite the fact that his story has the typical highs and lows of any biography; it is filled with sense of positivity which states that anything is possible.  Taboo takes readers through the hip-hop subculture of the 1990's where dance and music replaced guns and violence for many urban kids.  Taboo talks about his passion for dance, the influence of his friends and family, and how his ability to keep his individuality helped define his sense of self.  Of course, Fallin' Up also chronicles the origins of The Black Eyed Peas and their climb to becoming one of the biggest musical acts in the world.
Now I can't say that always related to Taboo's world.  It is a world I do not necessarily understand, but it is one that I recognize.  The fact that myself and Taboo are the same age made me able to recognize the social climates of the times that he writes about.    Taboo is a likeable individual, and his passion for life, family and personal expression is addictive.  His book is a testament for younger readers that belief in yourself and your personal dreams is the greatest gift of all.  But Taboo is not an ego driven individual, and his book is not just about his achievements.  He takes a hard cold look at himself, and has the ability to put his place in both the world, and the musical industry, in complete perspective.  He readily admits that will i am is the voice and talent of The Black Eyed Peas, and that Fergie was the essential addition that helped them launch themselves to fame.  He admits that he is not perfect.  He talks about his drug use, minor criminal activities, getting in over his head as a teenage father, and his arrest for drunk driving in 2007.  However each of these stories result become a lesson to be learnt that shaped him into the person he is, and made him into a better man.  He also talks brutally about the setbacks he has had in his career when he was forced to realize that he was not as good or as talented as some of the people around him.  Yet instead of beating himself up over it, within his dialogue he redeems himself by telling how these factors just gave him more drive and more perseverance and he continues at his craft so that he can be the best, and can stand with the big boys at the top of the heap. 
Taboo's Fallin' Up is part memoir, part inspirational journey.  It is a look at how the power of positivity made one man's dreams come true.  He sheds a positive light on the hip-hop/rap scene which often has a black cloud of violence and sexism.  Fallin' Up is recommended reading for anybody who feels that they are in a rut, or knows a young person who digs the music of The Black Eyed Peas that is going nowhere in their life.  Taboo can be an inspirational figure and shows how belief in yourself, your family, and discovering your own path through life via the things you are passionate about can help you live a far more meaningful and satisfying existence.
To order your own copy of Fallin' Up: My Story by Taboo, click here.
Thanks to Simon and Schuster Canada for sending me this book.  Visit their web-site for information on other great titles that they are currently publishing!