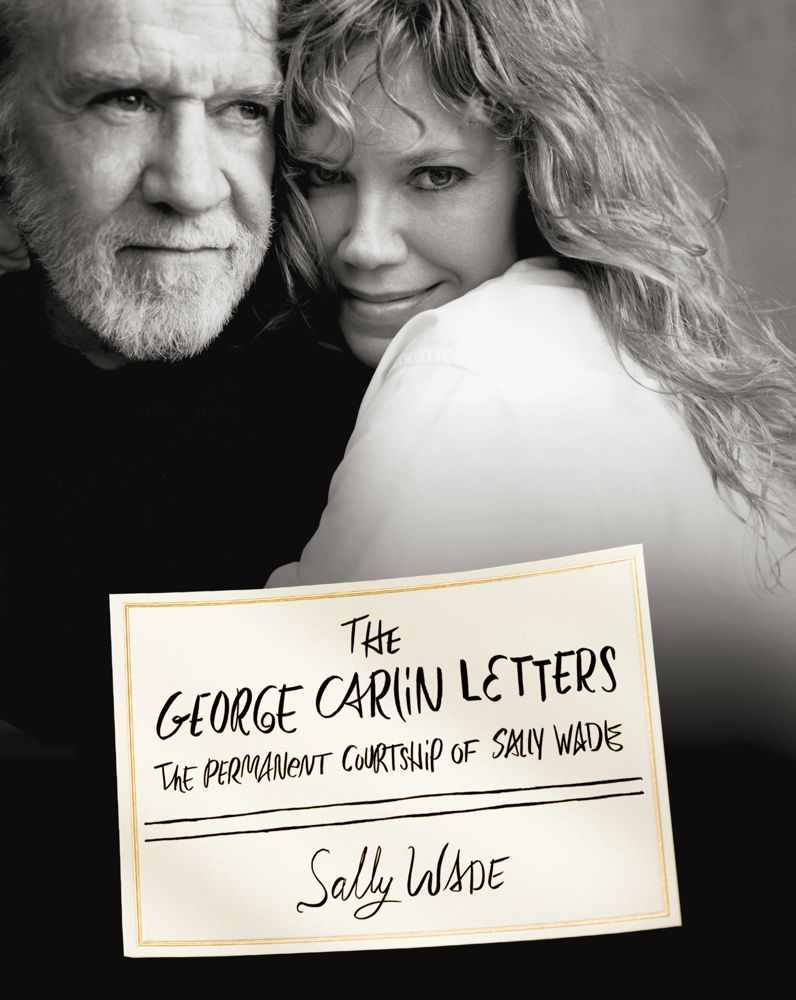 One of the most respected counter culture figures of all time; in his fifty plus years as a stand up comedian we saw many sides of George Carlin.  Analyist, social critic, anarchist, educator and philosophizer, George Carlin broke down the taboo aspects of society, making us see just how we are controlled and manipulated by social and political influences, and forced us to take a hard look at the world around us.  However, beyond the cynicism and fast talk, there was a hidden side of George Carlin which we never knew about…until now.  In her new book, The George Carlin Letters: The Permanent Courtship of Sally Wade, Carlin's widow Sally Wade shares with us the romantic  and private side of George Carlin through his own words and images as she reproduces hundreds of letters, cards and notes written to her during their ten year relationship.  Via her narrative and George's love letters, the love story of two eccentric people and a egocentric dog named Spot unfolds in this beautiful book.
You wouldn't think that a guy who could come up with controversial comedy routines such as Seven Words would be the scribe of some of the most romantic writings of all time!  Truth is, nobody writes a love letter quite like George Carlin.  Sure, he's not Lord Byron, but Carlin's writes about love, devotion, sexual desire and passion like the most celebrated poets.  When it comes to finding the right words to woo his lover, Geroge Carlin is a guy for all men to look up to.  But it's fair to say that Carlin isn't writing Hallmark Cards and he isn't just rehashing  old Air Supply lyrics.  Each of his love letters are laced with his trademark humor and endearing eccentricness that we've come to expect from George Carlin.  His letters range from sweet and passionate to witty and bizarre to sometimes being down right dirty.  Even at his most tender, the private side of George Carlin continues to have that quirky intelligence that made him a comedic genius.
Sally Wade's narrative style is not traditional and, for the most part, she writes in the present tense and the second person.  To understand what her narrative style is like, imagine if Bob Dole was doing the narrative of this book.  Possibly jarring to some readers at first, the result of this off beat narrative style gives the book a bizarre life of its own, as if the story is being told as it is happening, which gives it a fresh feeling of spontaneity.  That, and  there is a constant dialogue between Sally and George and Spot.  Yes, Spot the dog talks, but if you are a pet owner then you know what that's all about and you can just go with it.  A Venice Beach based writer, Sally Wade is an eccentric individual herself, which perfectly compliments George Carlin.  Yet, at times the narrative of her and George's romance seems to go to a place far beyond the reader's heads to somewhere only they could understand.  Some of the chapters, especially dealing with their Jupiteraian personas, are so based in fantasy that it is hard to follow, but the love between them keeps the story grounded enough for the reader to read on.
Containing hundreds of photographs and reproduced letters in George's own handwriting, The George Carlin Letters is presented to the readers as a quirky full color scrap book, making it more then just another book but a piece of art all it's own.  Private photos, posters, post-it notes, doodles, post cards, snap shots and more illustrate the book, revealing both the important and mundane aspects of George's life.  Chronicling their entire ten year relationship, from their first meeting in a Santa Monica bookstore to George's death in 2008, this book is an emotional memoir about two eccentric lovers and their mischievous dog in a magical land called Venice Beach.  It is a beautiful testament of the life and love of George Carlin and Sally Wade.
But no matter how much I try to explain the relationship between George and Sally I can't.  I don't think I've known a love like thiers.  George and Sally's romance is one of the sweetest love stories in pop culture history.  Perhaps it is only a story that Sally and George can tell themselves.  For a better idea of what you'll discover in this beautiful book, check out the promotional video below created by Sally Wade to introduce you to the book, as well as the private George Carlin that only his closest friends and family knew.  It says it far better then any reviewer ever could. 
To order your own copy of The George Carlin Letters: The Permanent Courtship of Sally Wade by Sally Wade click here.
 POP CULTURE ADDICT NOTE:  I'd like to thank Anneliese Grosfeld of Simon and Schuster Canada for sending me The George Carlin Letters and other interesting books that will be featured in the weeks to come as part of the "PCA Book Club."  Visit Simon and Schuster's web-site for other great books for essential summer reading!