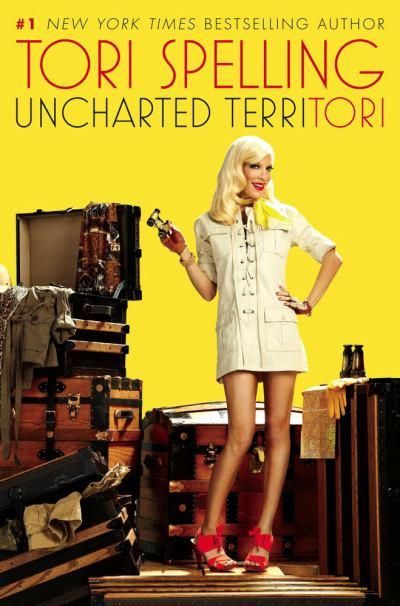 When Anneliese Grosfeld, our contact at Simon and Shuster Canada, wrote to me asking if I would be interested in previewing Tori Spelling's latest book, Uncharted TerriTori, the first thought that went through my head was "Tori Spelling can write?"  Well friends, Tori Spelling can not only write, but she has written (or at least dictated to author Hilary Lifton as the case may truly be) three books!  That's right!  Uncharted TerriTori is just yet another follow up to her #1 New York Times Best Selling 2008 autobiography sTori Telling, which she followed up with in 2009 with Mommywood.  Thus, with the release of her latest offering, pop culture's most famous case of nepotism has given us the Tori Spelling Trilogy.  Somehow I have a hard time believing that Peter Jackson will be rushing out to making any epics about this series.  But, somewhere deep in my heart, I knew that I wanted to not only read Tori Spelling's latest book, but I am a masochist enough to read the entire series.  Either that or Anneliese is good at her job and somehow convinced me that I wanted to read them.  Whatever the case, Anneliese, being the chum that she is, sent me the entire series and as a result I spent my summer with Tori Spelling.  Who would have imagined that?  With much amusement I packed my Tori Spelling novels in my briefcase to read on trains and in waiting rooms and especially in the local bohemian café where the people reading Hannah Arendt and Edgar Allen Poe gave me shameful looks as I became engaged into Tori's life story. 
For those who have been living in a cave since the 1990's, Tori Spelling is the oldest daughter of late television mogul Aaron Spelling who brought such television franchises as The Mod Squad, The Love Boat, Fantasy Island, Charlie's Angels and many many more to life.  An entertainment legend and media genius Aaron Spelling created a dynasty for himself and his family from the 1970's well into the 1990's.  In 1981 Tori Spelling made her acting debut in an episode of Vega$ (naturally produced and created by her father) and went on to appear in a number of Aaron Spelling productions until 1991 when daddy slipped her into the plum role of virgin party girl Donna Martin in the legendary 90's teen drama Beverly Hills 90210.  However, the years that followed would not be good to Tori.  As her credibility as an actress was judged through a series of lack luster "made for TV" movies, the tabloids painted her as a spoiled, vapid party girl as they followed her through shopping sprees, nights on the town, one failed marriage, stealing another woman's man, the loss of her father and her feud with her mother.  Yet it seems those days are far behind Tori Spelling.  Now a mother of two, Tori Spelling has tried to shed her "party girl" image for that of the urban housewife and she and husband Dean McDermmit are the subject of their own reality program Tori and Dean: Home Sweet Hollywood. Long gone is the trendy "scenester" of twenty years ago.  Tori Spelling proves that she has grown up, but in many ways she has also transformed into an eccentric Hollywood weirdo all her own.  Stories of going to mediums and even partaking in a voodoo ritual are described as if it is the most natural and normal thing in the world.  Chapter upon chapter of health issues can only be chalked up to extreme hypochondria.  The overall point of the book seems to be that Tori Spelling wants to convince the reader that she and her family are just "regular folks", but its impossible when you have spent your whole life as a privileged child in that weird and wonderful planet called Los Angeles. 
There is no kinder way to put it.  Uncharted TerriTori reads like one of those narcissistic Christmas letters that you get from relatives and friends that you never ever speak to throughout the year as they try to convince you that their family is better then your family and every other family you know.  Its not that she tries to paint a world where her family is perfect.  Far from it.  Tori describes tensions with Dean and her children are certainly not angels.  However, for the most part, as Tori Spelling sees the world, the majority of life's problems are caused by the outside aggressors– the media, the paparazzi, her husband's ex-wife, the former cast of 90210, parents at daycare, her mother ect.  For much of the book Tori tries to prove that she is as "normal as you and I" and express to you the reality of her world,  which often falls between being a pity party and a statement of "it's not my fault."  But if this is the case, why was I compelled to continue to read all three of Tori's books?  The truth is, I found that over time I came to like Tori Spelling.  Her narrative is as if she was sitting down and telling me the story of her year over a cup of coffee and some conversation.  She seems to be a genuinely nice and caring woman, who is devoted to both her family and her friends.   Like her father she remains to be determined and intuitive (although not nearly as brilliant).  I constantly found myself routing for Tori and found her eccentricness to be oddly charming much of the time.  But mainly there is a sort of pathos to her stories.  There is a sense that she has a lust to be "normal" without any sense of what "normal" really is.  Also, although she has seemed to change from her Donna Martin days, she is just as narcissistic as ever and one can only wonder if she could handle not being in the public eye.  She may often claim to be victim of the paparazzi, but Tori Spelling seems to have her own sadistic love for it.
Mainly it is interesting to see how Tori Spelling sees herself.  Throughout the entire trilogy Tori seems to be fairly honest with the reader.  However, somewhere in the delusions of her own world one can only wonder how honest she is being with herself.  Tori seems to not only be trying to convince the reader that "she is normal" and that "this is how it happened" but she also sounds like she is trying to convince herself.  The Tori Spelling Trilogy is an odd look at how a woman who clearly doesn't live in our reality glimpses reality and her place in it.
 Where Uncharted TerriTori falls short is that there is impossible to read the book on it's own.  While the first two books build on each other, both books deal with a strong aspect of her life that can be read separately.  sTori Telling is a straight forward autobiography and easily the best of the series, while Mommywood is the chronicle of her pregnancies, adjusting to motherhood while in the media spotlight and the early days of her second marriage and the TV series.  Uncharted TerriTori is more of a two hundred page epilogue of the first two books.  It pulls the threads together, but seems to wander about without a clear focus of its own. 
So why pick up Uncharted TerriTori?  If you are looking for an inspirational story about a misunderstood young woman who goes up against great odds and proves herself via her strength and intelligence then I suggest you look elsewhere.  I suggest a biography on Joan of Arc or something from Oprah's Book Club.  However, if you are at an airport looking for something to read on a flight, or a book to breeze through while lying on a beach Uncharted TerriTroi is an easy and inoffensive read.  It's yummy popcorn that doesn't make your head hurt.  However, I must recommend that you seek out sTori Telling as a companion piece.  Not only is it a better read, but it is an interesting look at the true life of a privileged LA brat, and sets up all foundations for Uncharted TerriTori.  Without it you will be about as lost as Tori Spelling seems to be.
Click here to order your own copy of Uncharted TeriTori.
Click here to order your own copy of sTori Telling.
Click here to order your own copy of Mommywood.
POP CULTURE ADDICT NOTE:
  I'd like to thank Anneliese Grosfeld of
Simon and Schuster Canada
for sending me Uncharted TerriTori and the rest of the Tori Spelling Trilogy.  Thank you for your professionality, your generosity and your sense of humour.  You are a real gem.