Although it was once considered one of the lamest gag strips in newspapers, over the last two decades Ernie Bushmiller's Nancy has gained a cult following by comic enthusiasts who have taken a second look at the strip, hailing it a modern masterpiece in both art and humor.  Now Fantagraphic Books is making Nancy's golden era assessable to the mass audience by collecting the daily strips from 1943 to 1945 in a beautifully produced collection titled Nancy is Happy.  Finally readers can discover the whimsical world of Nancy, full of sight gags, puns and irrelevant humor, in a comic strip that appeals on a variety of different levels, and seems to offer different things to different readers depending on how closely they look at the material.
The history of Nancy goes back to 1922 when it began as a very different sort of  comic strip called Fritzi Ritz by cartoonist Larry Whittington.  A humorous strip about a comical flapper, Fritzi Ritz, Whittington left the strip in 1925 and the strip was taken over by Bushmiller.  Bushmiller's run on Fritzi Ritz would prove successful, including bringing her to Hollywood, having her involved in murder mysteries and being chased by gangsters.  However, when the popularity of Fritzi Ritz began to become rivaled by the similar Blondie, which was established in 1930, Bushmiller grew tired of the character and in 1933 introduced Fritzi's eight year old niece Nancy to the strip.  Obviously a parody of Little Orphan Annie, Nancy is a chubby .little spiky haired girl with button eyes and a strong wit which often borders on light hearted cynicism.  Although she is a good natured little girl, Nancy can be sarcastic, mischievous and is often too clever for her own good.  Nancy became immediately popular with readers and as her popularity grew, Nancy's presence began to dominate the strip, pushing Fritzi Ritz, now known as Aunt Fritzi, to the side as a secondary character.  In 1938 Bushmiller changed the name of the comic to Nancy, and introduced Nancy's best friend and romantic interest Sluggo Smith, a poor boy from "the wrong side of the tracks."  Sluggo is in many ways the exact same character as Nancy, but due to his background Bushmiller was able to make commentary on the social/class differences between the two characters..  As Nancy's popularity grew, Bushmiller began to play with his artist style opting for a more minimlistic style, which would go on to inspire pop artists such as Andy Warhol and Joe Brainard.  Ernest Bushmiller would go on to win the National Cartoonist Society Award in 1961 and the Reuben Award in 1976, and Nancy has gone on to appear in animation, comic books, toys, games and even a US postage stamp.  Although it was loathed by many early comic critics for its simplicity and use of puns and sight gags, in the 1990's Nancy gained a new appreciation by comic historians and art critics for its clean and unique artistic style and its multi-layered use of humor that appealed to both children and adults.
Nancy is Happy collects three years of Bushmiller's strip at its artistic peak.  Various themes includes Sluggo and Nancy's jealousy of each other as they pursue other little boys and girls, their attempts to make money by various clever business endeavors (Nancy and Sluggo are never out to cheat people of money as much as earn it by thinking "outside of the box"), and Nancy's almost mean spirited rivalry with neighbor Mr. Sputter (sort of like Dennis the Menace and Mister Wilson, but with a lot more bite).  Some other memorable sequences includes Nancy getting a pet monkey, a rivalry between Nancy and Aunt Fritzi when Fritzi becomes Nancy's substitute teacher, Nancy, Sluggo and Fritzi's epic trip to Florida, Sluggo's job at a museum, Sluggo and Nancy campaigning for neighborhood president, Sluggo gaining psychic abilities and becoming a fortune teller and a visit from Nancy's Chinese friend Floy Floy, which includes some harmless, yet politically incorrect, gags.
Beyond Bushmiller's unique artistic style, Nancy could be one of the greatest "kid strips" of its era.  Predating Peanuts by seventeen years, Nancy manages to maintain the innocence of childhood, although it adds a good natured cynicism into the narrative.  While Charlie Brown and the gang would become genre breaking by adding adult like cynicism to their world, Nancy and Sluggo are still very much children, albeit incredibly clever ones.  Yet while there is still a sense of innocence in the strip, Nancy doesn't get dumbed down by sentimentality and Nancy and Sluggo are the furthest thing from being cute.  Nancy is a unique comic strip all its own.  Cynical yet optimistic and simple yet complex, Nancy is sort of a comic strip that is filled with juxtapositions and oxymorons, adding to the brilliance of Bushmiller's creation.
Making Nancy is Happy even more interesting on a historical level is the fact that the strips contained in the volume were published during the height of WWII.  Although Nancy obviously wouldn't be able to bring it's actions overseas, much like Joe Palooka and Gasoline Alley was able to, Bushmiller used the strip as a way to promote various ways to help the war effort, and had Nancy and Sluggo participating in some seriously obscure war drives, such as conserving shoe leather, and dealing with war time shortages such as coal and fuel.  Furthermore, Nancy is Happy features a number of propagandist sight gags against the Nazis and the Japanese, including Nancy comparing a neighbor's house to Adolph Hitler and blowing Japan off of a school globe with a firecracker.  Interestingly enough, even when engaging in war time propaganda, Bushmiller does not lower himself to the creation of garish stereotypes, and instead makes his point in the form of clever sight gags and puns.  Bushmiller's propaganda miraculously stays clean, and even seventy years later isn't embarrassing to read.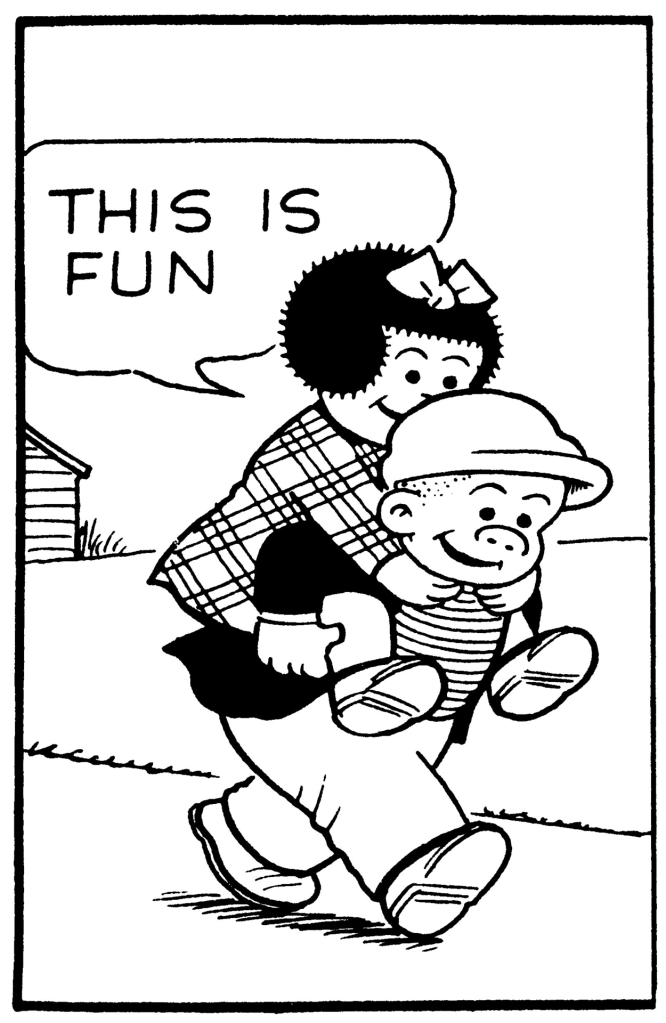 Nancy is Happy is a fantastic collection containing an often over looked and underappreciated comic strip.  The art and humor is whimsical, fun, clever and original.  Even over seventy years after the strips were first published; Nancy has barely dated itself (for the exception of gags dealing with prices or WWII) and is still "laugh out loud" fun.  If you haven't looked at Nancy in a while, it is worth taking a second look at.  Nancy is Happy could be the best daily strip collection put out so far this year.