Every year a dozen Christmas movies are made, but not all of them are good.  Throughout the Christmas Season PCA Retro Review features the best in Christmas films that will entertain, shock, delight…and not star Tim Allen!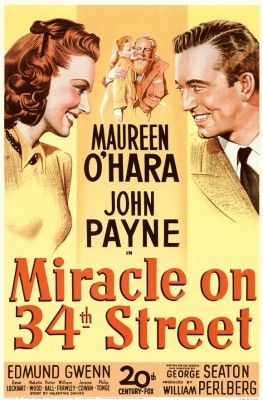 George Seaton's 1947 film Miracle on 34th Street will always be remembered as one of the greatest holiday films of all-time.  However, what seems to be overlooked is the fact that it also has a clever script full of social commentary on commercialism, modern psychiatry, politics and the American judicial system. Looking at the triumph of fantasy and imagination over cynicism, Miracle on 34th Street goes beyond being a family-friendly film. It works on a number of levels by providing a plot easy enough for children to follow, yet containing enough substance for adults to find deeper meaning within the subtext of the film. As a result, Miracle on 34th Street is the perfect film to start the holiday season.
When the Macy's Thanksgiving Parade's Santa Claus gets too drunk to perform his duties, Macy's event coordinator Doris Walker (Maureen O'Hara) hires a kindly old man (Edmund Gwenn) off the street to replace him. A hit with both the crowd and Mr. Macy, Doris goes on to hire the man as the store's Santa Claus. When Doris' neighbor, lawyer Fred Gailey (John Payne) brings her six year-old daughter Susan (Natalie Wood) to meet Santa Claus, Doris becomes upset when the old man's performance is so convincing that Susan, a serious and cynical child who has been raised believing that imagination and fairy tales are foolish, suddenly believes that the old man just could be Santa Claus. Hoping to convince Susan otherwise, Doris begs him to explain that he is only portraying the Christmas icon, but is disturbed to find out that "Kris Kringle", as he calls himself, truly does believe he is the real Santa Claus. Furthermore, Kris is sending Macy's customers to the competition, Gimbles, to find gifts that Macy's does not have.  Despite Kris' delusions and to the benefit of Macy's, the public believing this to be a marketing ploy, approves of Kris' actions and is kept on as Santa Claus. After a confrontation with the stores' meddling psychiatrist, though, Kris is committed to Bellevue Mental Hospital. Turning to Fred for help, the film shifts gears and becomes a court room drama as Fred must prove to the American Supreme Court that Santa Claus not only exists but is, in fact, his client. With a combination of surprise testimonies, clever twists and just a bit of magic, Fred and Kris warm the cynical hearts of the modern world, as well as Doris and Susan Walker, and bring the magic of the Christmas spirit back to New York City.
Compared to the majority of holiday films of that era, Miracle on 34th Street is far and away the most unconventional. The script is quite modern and clever, filled with quick and punchy one-liners, and criticism of the cynicism that haunted post-war America. Furthermore, Seaton–who wrote and directed the film–finds a perfect balance of sentimentality and social analysis; he is able to muster up the magic of holiday season while giving viewers an entertaining and thought-provoking film that never gets bogged down by sweetness.
Miracle on 34th Street has possibly one of the strangest marketing stories in the history of holiday movies. When 20th Century Fox's studio head Darryl F. Zanuck decided to release Miracle on 34th Street in May 1946, despite the fact that it was a Christmas film, the studio had doubts that the film would be a success if it were released in the middle of summer. As a result, the studio made an attempt to hide Miracle's holiday subject matter from the audience. In doing so, the movie posters featured Maureen O'Hara and John Payne prominently on the poster, and Edmund Gwenn was not featured on any publicity material dressed as Santa Claus. The studio also released one of its most unconventional trailers ever, featuring virtually no footage from the actual film. Instead, the trailer was a mini film in itself that featured an excitable fictional 20th Century Fox film executive named Ed Schaffer (played by Charles Tannen) who chews out his yes men for developing a trailer that he claims "says nothing." Storming onto the 20th Century Fox lot, Schaffer gets glowing testimonies about how fantastic Miracle on 34th Street is by Rex Harrison, Anne Baxter, Peggy Ann Garner and Dick Haymes. Retuning to the screening room, Schaffer watches the film, loves it, and describes it in the same words as his executives had in their original trailer – as hilarious, romantic, tender, charming, delightful exciting and groovy. It should be noted that none of the actors involved in the trailer were actually in the film, and no plot is ever revealed. The strange trailer caught the attention of the film audience, and even though Miracle on 34th Street was released during hot summer months it captured the hearts and the imagination of the audience and became a massive hit. Miracle earned four academy award nominations, including Best Picture (it lost to Gentleman's Agreement),  and won the Oscars for best screen play, best original story and best supporting actor for Edmund Gwenn.
In an attempt to keep the film authentic, Seaton flew his cast and crew to New York for the 1946 Macy's Thanksgiving Parade, where he shot the opening scenes on location along the parade route with the permission of Macy's. Furthermore, unbeknownst to the media and the crowd Edmund Gwenn, in full costume, played Santa Claus on the entire parade route. He also greeted the crowd in the Macy's traditional window display unveiling, which resulted in a magnificent shot of Gwenn addressing a crowd of thousands of New Yorkers. Macy's also allowed Fox to shoot within the store itself during the Christmas rush, and participated in recreating their Santa Claus display back in Hollywood for additional filming. However, it was agreed that Macy's and Gimbles would only be used if the stores executives liked the film after it was completed. If not the film would have had to have been recut and heavily refilmed. Thankfully both Macy's and Gimbles liked the film, which provided both stores with an abundance of free publicity for the Christmas season.
Although Maureen O'Hara and John Payne are credited as the stars of the film and give strong performances, both get overshadowed by the stellar performances by supporting stars Edmund Gwenn and Natalie Wood who emerge as the film's true stars. British character actor Gwenn gives the performance of his career as a particularly street-wise Santa who faces a modern world that no longer believes in him. Where other movies portray Santa as a magical figure that is unable to relate to the modern world and rarely give him any sort of personality, Gwenn's Santa Claus maintains his whimsy while being wise to his surroundings. His character gains dimension by displaying moments of self doubt, anger and frustration. To date, no other actor has played Santa Claus in the same way that Gwenn did, and as a result Gwenn is the only actor that has ever won an Academy Award for the role of St. Nick. When receiving his Oscar, Gwenn looked down at the little gold statue and said to the audience, "Now I know there is such thing as a Santa Claus." Eat your heart out Tim Allen.
Although she had been appearing in films since 1943, Miracle on 34th Street would be Natalie Wood's breakout film. In the role of Susan, Natalie plays a cold and calculating child who had the magic of imagination and make believe squashed out of her by her practical, and emotionally-damaged mother long ago. Nine years old (going on thirty) Susan becomes the embodiment of the voice of modern day cynicisim, and through narrow eyes and a cheeky expression, battles Edmund Gwenn and John Payne every step of the way. However, through her friendship with Kris, the cracks of childhood innocence begins to show in Susan throughout the film, though she never quite lets go of her cynical side until the film's surprising climax. Wood  already shows her enormous talent as an actress by playing an unusual and unconventional little girl. Most extrordinary is Wood's talent for throwing out glib one-liners like a seasoned pro, keeping up with the witty banter of the adult actors. Miracle on 34th Street is an early look at the beginning of the brilliance of an actress who would grow up to be one of film's most famous leading ladies.
Miracle on 34th Street also includes a list of character actors that make up the colorful supporting cast, including Phillip Tonge as O'Hara's flamboyant co-worker Julian Shellhammer, Jerome Cowan as slippery district attorney Thomas Mara, Gene Lockhart as honest but conflicted Judge Harper, future I Love Lucy co-star William Frawley as Harper's political advisor Charlie Halloran, Porter Hall as the weasily store psychiatrist Granville Sawyer, and Mae Marsh as a harassed mother looking for a fire truck. A particularly standout performance by Alvin Greenman as the store's stockroom boy Alfred, occurs in the defense of Kris Kringle which results in the conflict that sends him to the mental institution. Despite his tender and funny performance, Greenman did not appear in very many films before or after Miracle on 34th Street, but continued in Hollywood with a long and successful career as script supervisor.
What is possibly the most interesting thing about Miracle on 34th Street is the fact that commercialism and cynicism surrounding the holiday season had already taken hold of society by the 1940's. Too often modern writers lament how much the modern world has grown colder than "the good old days," and look to the forties and fifties as being a more innocent time. I have always held the belief that nothing really changes, and that the further away from a decade we get the more it is romanticized as "simpler". Yet Miracle on 34th Street shows that over sixty years ago the world could be just as cold and pessimistic as it is today. We still need a Santa Claus, and Christmas is still a time where people need to find the glint of childhood wonder in their hearts. As a result, the true miracle in Miracle on 34th Street is that the film is as relevant today as it was when it was made. The film has aged extraordinarily well, giving it the ability to speak to today's audience as it did in 1946.   Miracle on 34th Street is more than a Christmas classic, it is a modern masterpiece that is required viewing for audriences of every generation.