PCA reminds you that the world's best movies are NOT in the new release section at Blockbuster!
Eugenie de Sade (1974) – Forty years ago last week the world lost the beautiful and mysterious Spanish actress Soledad Miranda in a car crash that took her life at age 27. Although she never received critical acclaim nor did she ever find international success during her lifetime (only three films, in which she had either a supporting part or less, were ever released in North America during her lifetime) a new fascination and fan base has grown around the obscure movie siren in the last decade. In her relatively short career Soledad Miranda did everything from romantic comedies, sword and sandal pictures, medieval dramas  and even at least on early rock n' roll film, yet today she is best known for her horror and exploitation films, most notably by controversial movie director Jess Franco who beautifully filmed her in such cult movie classics as Count Dracula and Vampyros Lesbos. However, none of Franco's films captured the mysterious tragedy of Soledad Miranda more then his obscure thriller Eugenie de Sade. His second film with Soledad Miranda, Franco's pet project was filmed in early 1970 but lay dormant until 1974, four years after Soledad Miranda's death. Now, due to Soledad Miranda's growing cult status, Eugenie de Sade has been rediscovered by fans on DVD and is easily one of her most beautiful, if not disturbing, films.
Loosely based on a story by the notorious Marquis de Sade, Soledad Miranda plays Eugenie, a shy and lonely girl who has been raised by her eccentric step father Albert Radeck de Franval, who is a noteworthy author of erotic fiction. Although forbidden to read the erotic books in her father's library, Eugenie's curiosity gets the better of her and one day she reads one, revealing a sexual awakening within her. Learning that she has read one of his books, de Franval introduces the highly influenced Eugenie to a world of sex and perversion as the pair partakes in a series of sexually charged murders, leading to their own incestual and obsessive relationship. However, things take a deadly turn for the worse when Eugenie meets a young musician and falls in love. As an investigational writer closes in on the truth behind Albert Radeck de Franval, Eugenie's life gets torn apart in a sea of lust and love, perversion and pleasure and loyalty and fear teaching her that when you cross a certain moral line there is no coming back.
Eugenie de Sade could be one of Jess Franco's best films despite a strange and confusing history. Known for uneven film making, Franco's work often goes from being cheaply made to cinematically beautiful from picture to picture. Eugenie de Sade is easily one of Franco's cheaper looking pictures. Using poor quality film and containing bad dubbing the picture quality is often jarring compared to that of his masterpieces such as The Diabolical Dr. Z, Venus in Furs and Vampyros Lesbos. However, despite the cheap quality of the production, Franco never shot Soledad Miranda so lovingly. The camera loves Miranda as much as Franco did, and her most breathtaking moments are captured within this film. Although she spends most of the film huddled in a fetal position, a certain sad, lonely, vulnerable sexiness is seen within the screen vixen. Franco is capturing a very different version of Soledad Miranda compared to the way he would film her in his other films in which she appeared to be far more aggressive and confident. In the role of Eugenie, the true tragic beauty of the alluring Soledad Miranda is masterfully captured.
For Eugenie de Sade Franco assembled a small and compact cast consisting of some of his sure fire regulars including Andres Morales as Eugene's musician lover Paul, who would go on to play the romantic lead in Vampyros Lesbos and most notably German character actor Paul Muller as the evil and overbearing Albert Radeck de Franval. With nearly 250 film credits during his career, Muller was a regular in the horror industry in films by Franco and Mario Bava, and appeared in the majority of Soledad Miranda's films for Jess Franco. However, Eugenie de Sade is one of the rare times that Paul Muller was given the chance to star as the leading man in the film. With his sharp pointed features and Eurotrash intensity, Muller gives the performance of his career as the evil and perverse gentleman killer. Jess Franco himself even appears in the plum role of investigative writer Attlia Tanner who's interview with Eugenie frames the film.
Although Eugenie de Sade seems like a labor of love at the time today, for some reason Jess Franco abandoned the project not long after it was shot and began to film a second version of the story titled Eugenie: The Story of her Journey Into Perversion featuring Christopher Lee, Maria Rohm and, oddly enough, Paul Muller. This version of Eugenie, made on a far larger budget and looking vastly superior to Franco's version with Soledad Miranda was immediately released and found a notable cult following. Meanwhile, Franco went on to film three additional films with Soledad Miranda the same year – Vampyros Lesbos, She Killed in Ecstasy and The Devil Came From Askava. It was during the filming of Askava that Soledad Miranda was involved in the fatal car crash that took her life.  With her husband, race car driver José Manuel Simões, behind the wheel, an oncoming car crashed into the passenger side of their vehicle, fatally wounding the beautiful actress who died hours later in a Portuguese hospital. Franco did what he could to finish Asksava, but grieving over his muses' death he was unable to bear to look at a number of other films that he had began with Miranda. However, years later, as a final tribute to Miranda, Franco pulled the lost footage from his earlier Eugenie film and began to edit it together. Eugenie de Sade was released quietly to a handful of continental European theatres, but went unnoticed at the time. It wasn't until the film was released on DVD in 2003 that it was rediscovered and reembraced by a legion of cult film lovers, adding to the renaissance of Soledad Miranda's fan following.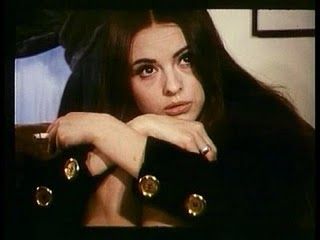 Soledad Miranda is very much like a phoenix who has risen from a fiery grave. Although she wallowed in obscurity for decades after he death, only in the last ten years has her cult following began to grow, turning her into a major cult figure. Although only a handful of her films have yet to have been translated and made available in North America, Eugenie de Sade remains to be her most captivating and hypnotic performance. Due to the mature and taboo topics the film is obviously not for everyone, but take a moment to either remember, or discover for the first time, the glory and beauty of one of pop culture's most tragic and mysterious figures.