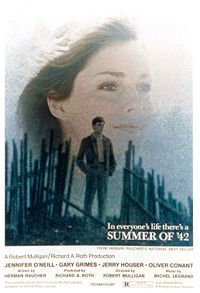 Summer of '42 (1971) – Summer seems to be the most likely backdrop for film's most famous "coming of age" films, but few are as beautiful, powerful or realistic as Robert Mulligan's evocative film Summer of '42.  Based on the memoirs of screenwriter Herman Raucher, Summer of '42 is a dream like journey through Raucher's memories as he recalls his summer vacation on Nantucket Island in 1942, where he paled around with his friends, fell in love with a woman. The opening lines, "Nothing from the first day I saw her, and nothing that has happened to me since, has ever been as frightening and as confusing, for no person I've ever known has ever done more to make me feel more sure, more insecure, more important and less significant," pretty much sums it all up.   Love, lust, friendship, guilt, passion and desire are all dealt with in a dream like film in which Raucher unapologetically changes nothing – using the names, dates, details and even documents from the most meaningful summer of his life.
As the war rages on in Europe during the summer of '42, fourteen year old Herman Raucher (Gary Grimes), called Hermie by his friends, is spending the summer on Nantucket Island with his best friend Oscar "Oscy" Seltzer (Jerry Hauser) and nerdy and naïve pal Benji (Oliver Conant).  Endless days at the beach are interrupted by Oscy's obsession with getting laid, and Hermie's fixation on a young vacationing bride named Dorothy (Jennifer O'Neil) whose husband leaves their island retreat prematurely when he is called to duty to fight in the war.  One afternoon when Hermie spots Dorothy struggling with some grocery bags he carries them home for her, striking up a sweet, yet awkward friendship with the lonely woman.  However, when Hermie comes to visit her on one fateful night, a moment of weakness and insanity changes Hermie's life forever, making the summer of '42 one he will never, ever, forget.
Summer of '42 is possibly one of the most exceptional coming of age films ever made due to the fact that it isn't coming from a writer that is trying to come up with a story that people will relate to.  Instead, it is an honest recollection of a defining summer from Herman Raucher's life, as he exorcizes some of the questions and confusing events from his own childhood for the world to see.  By keeping the events, characters and even the names authentic, Raucher puts his heart in Robert Milligan's hands, and bears it for the world to see.  Both funny and tormented at the same time, Raucher's story is dipped in a realism that the audience can relate to no matter how many decades move beyond 1942.  Although the social attitudes toward sex may change, the same mysterious fascination that teenagers have with the subjects of love, lust and desire always remain to be the same throughout the ages, and Raucher works through all three of these similar, yet different, emotions.  Meanwhile, Robert Mulligan, who's previous films included the classic To Kill and Mockingbird, and the tender romantic comedy Rat Race, had the right touch to take such powerful emotions, and turn them into a dream like final product that continues to make an impact on generations of viewers.
Gary Grimes' performance as the fourteen year old Herman Raucher is filled with depth as he creates Hermie into a three dimensional character with different sides to his emotions.  Although he is as rambunctious and as horny as Oscy and Benji, he has a certain romantic side that is not present in his two friends.  However, the most painful, yet funny, moments in the film is when he performs his awkward banter as he tries to entice the object of his desire, Dorothy, via good manners, careful vocabulary and bland small talk.  Hermie says all the wrong things all the time, giving him a charming quality which we can all relate to – especially when you think to yourself "Did he really just say that?"   Grimes successful brings his character from an awkward teen to a more thoughtful young man, as he outgrows his friends in maturity and experience, and is left with a memory of a woman who will haunt him for years to come.  Surprisingly Gary Grimes has done little else since Summer of '42, and disappeared completely off the radar around 1991.  A true tragedy because his performance in Summer of '42 should have been a star making performance.
Jennifer O'Neil is absolutely breathtaking in the role of Dorothy.  Her charm and beauty not only makes her the fantasy woman of Hermie's dreams, but also that of the audience.  Somehow in her performance, paired up with Mulligan's direction, Jennifer O'Neil becomes the most desirable woman in the world.  Her performance is both natural and powerful as she embodies the definition of a lady in the early part of the film.  However, in the films' climax, she is ruptured with a grief and near insanity that is so clear to the audience, that whether you feel her actions are wrong or right, it is clear that she is not in her right mind and is, thus, forgivable.  Possibly the best performances of her career, Jennifer O'Neil becomes the definition of summer fantasies for all the right, and wrong, reasons.
Summer of '42 was a long road of reflection and self discovery for Herman Raucher.  When his best friend Oscar, immortalized in the film as Oscy, was killed in North Korea in 1955, Herman began writing Summer of '42 as a tribute to him.  Yet, he quickly came to the conclusion that although they were best friends, the two of them had never shared any moments or conversations that had any depth or meaning.  Thus, he changed his focus to something more haunting and powerful to him – his brief friendship with Dorothy.  He finished the script for Summer of '42 in the late 1950's, but was unable to sell it to any studios.  Eventually he found an ally in Robert Mulligan who had just finished To Kill a Mockingbird and was looking for a project to follow it up.  Mulligan brought it to Warner Brothers and convinced them to allow him to direct the film, but the studio was concerned with both the sexual content, which was essential to the film, as well as the appeal it would have to a mass audience.  Believing in the strength of the script, Mulligan continued to push for the project for nearly a decade, and as the 1970's dawned he was finally given the go-ahead to do the film.
Ironically, by the time that Mulligan and Raucher began production on Summer of '42, Nantucket Island was so modernized that they had to move production to the town of Mendocino, CA on the opposite coast.  While casting the film, Warner Brother refused to audition any actress under the age of thirty for the role of Dorothy, but Jennifer O'Neil's agent had gotten a hold of the script and had fallen in love with it and began to lobby that his client get the part despite the fact that she was only twenty-two.  O'Neil, on the other hand, had her own problems with the script, especially with the fact that it contained scenes where she would have to be nude.  Eventually everything worked out for everyone – O'Neil was cast as Dorothy despite her age, and Mulligan agreed to shoot the film without nude scenes.  Furthermore, in a brilliant move by Mulligan, during the eight weeks of filming O'Neil was not permitted to associate with the actors playing the boys, including Gary Grimes, so that no sense of familiarity would be formed, even subconsciously on screen,  between the actors.  The tactic worked beautifully, creating a tense and uneasy chemistry between O'Neil and Grimes.
When Summer of '42 was nearly finished, Warner Brothers still had reservations about how audiences would respond to the film, and persuaded Raucher to write a novelization of the screenplay.  He agreed, and the book was released months before the film's release, becoming an instant success and placing itself on the New York Times Best Seller list.  The popularity of the novel helped ensure the film's success and Summer of '42 was one of the most successful films of 1971, winning the Golden Glove Award for Best Picture and Director, and the Oscar for Best Musical Score (it lost for Best Picture to The French Connection).  It was followed up by a sequel, Class of '44, which reunited Milligan and Raucher with the three boys reprising their roles.  Furthermore, it was reported to be director Stanley Kubrick's favorite film, and can be seen playing on the television in his classic horror film The Shining.
At the conclusion of the book and the film, Raucher ominously tells the audience that he "never saw Dorothy again."  However, despite the fact that her last name was not revealed, Raucher used the actual content of the letter she left him in real life, word for word, in the film and the novel.  After the success of the film, a number of women wrote Raucher claiming to be Dorothy, but eventually the real Dorothy emerged out of the mists of the past, writing to Raucher and proving her identity within the letter via facts that only she and Raucher would know.  Informing Raucher that she was remarried and now a grandmother, she was worried that she had "mentally scared him" as a teenager.  A married father himself, Raucher and Dorothy never reunited, and did not continue a correspondence.  The identity of the real Dorothy still remains to be a secret today, and Raucher and Dorothy truly never saw one another again after that fateful night in '42.
Summer of '42 has an ageless quality which allows it to maintain it's appeal with audiences still today.  Despite being a forty year old film, it still looks like it could have been filmed just last summer.  The subject of love and lust will always be eternal, the emotions are as raw as a recent heartbreak and the subject is one that anyone with a heart can relate to.  You can understand the film because it everyone can find their own experiences of young love and loss within it.  Summer of '42 continues to stand out to be the greatest coming of age film ever made.