PCA reminds you that the world's best movies are NOT in the new release section at Blockbuster.
Tragic Ceremony (1972) – At first glance Tragic Ceremony, directed by Riccardo Freda, seems to be a pretty cardboard horror film full of plot cliques and confused story telling.  However, at a second look, Tragic Ceremony is a creepy little piece full of atmospheric horror and serves as a vehicle for Luciana Paluzzi and Camille Keaton, two of cult film fandom's favorite stars at very different periods of their career.
We've all seen it before, and we are bound to see it again.  Four hip, good looking kids in a souped up dune buggy run out of gas on a dark, deserted road during a storm and take refuge in an old dark house where a mysterious gathering is taking place.  When Jane, played by Camille Keaton, is separated from her male chums; Bill, Joe and Fred, by the seductive Lady Alexander, played by an aging yet still sexy Luciana Paluzzi, she is quickly seduced by a satanic ritual via a pearl necklace that was apparently possessed by the devil that was given to her by Bill in an attempt to win her affections.  However, when the boys find Jane and discover the black mass, all chaos ensues as the Satanists slaughter each other and Bill accidentally kills Lady Alexandra during a struggle.  Fleeing from the scene of the crime, the friends take refuge at Bill's father's cottage, only to find that the police have been called to the scene of the crime and they are now wanted in connection with the eight murders.  Yet, if that isn't bad enough, a mysterious force is hunting the friends as well.  Is it one of them, or are dark demonic forces at work.
When Tragic Ceremony was released in 1972, the studio used the recent sensational murders of Sharon Tate by the Manson Family as a selling point to promote the film.  With the trial ending only a year before, the murders was still fresh in the minds of the public, and while Tragic Ceremony in no way reflected the Manson story or the Tate murder, the studio used the idea of eight dead bodies in a mansion as enough of a connection to link the film to the Manson murders in its promotional material, even working the connection briefly into the film during a news broadcast during one scene.
Riccardo Freda, who is most famous for directing The Horrible Dr. Hitchcock (1962), was never satisfied with Tragic Ceremony.  As a result he used the alias Robert Hampton put on the credits in an attempt to separate himself from the film.  However, despite his dislike of the film, Freda manages to put together a creepy little film.  There is no denying that he had little to work with, but he takes the little he had and puts it together brilliantly to create an atmospheric piece full of suspense and horrifying imagery.
One of the appealing factors of Tragic Ceremony is its good looking cast.  Tony Isbert and Máximo Valverde are likeable as hipster studs who are both vying for future I Spit on Your Grave star Camille Keaton's affections while Giovanni Petrucci enigmatically plays guitar as the audience wonders exactly what he's doing there at all.  There is no denying that Camille Keaton gives the strongest performance in the film as Jane.  One of her earliest films, Camille Keaton plays a different kind of heroine.  Although she is obviously the "damsel in distress," Jane is not the typical squirmy spineless girl typically present in cliqued horror films.  She is confident, cool and seems at times to have more sense then her male companions.  However, Camille Keaton unveils a coldness to her in a key scene at the end of the film, chilling the heart of the viewer.  It is the same coldness that would make her a legend in I Spit on Your Grave a few years later. 
Tragic Ceremony is also full of incredibly talented performers whose roles are so small that they are nearly wasted in the film.  Spaghetti western mainstay Luigi Pistilli makes a brief, but noteworthy appearance as Lord Alexander, the head of the satanic cult.  Freda must have only had access to Pistilli for a very brief time as Pistilli's appearance in the film is so limited.  However, Freda does all he can with the time and Pistilli's appearance makes a strong impact on the film.    Italian character actor José Calvo makes the strangest appearance in the film as a grumpy gas attendant.  However, is he merely a gas attendant, or is he someone, or something, much much worse?  Calvo's appearance is never clearly explained, but it is easily the quirkiest moment in the film.  Jess Franco regular Paul Muller appears in the final scene as a doctor who tries to explain the confusing ending of the film, although failing to clearly explain exactly what happened despite his efforts.  One of Italian horror's greatest character actors, Muller's appearance is a pleasant surprise, but he could have been better utilized.  Of course, the most notable underutilized actress in the film is Luciana Paluzzi.  Although she is slated as the star of the film. her presence is also limited.  However, just as he did with Pistilli, Freda uses Paluzzi as spectacularly a he can, allowing her to take center stage in each scene she appears in.  Although nearing the end of her hey day when Tragic Ceremony was filmed, the aging Paluzzi is as radiant and alluring as she was in the early1960s.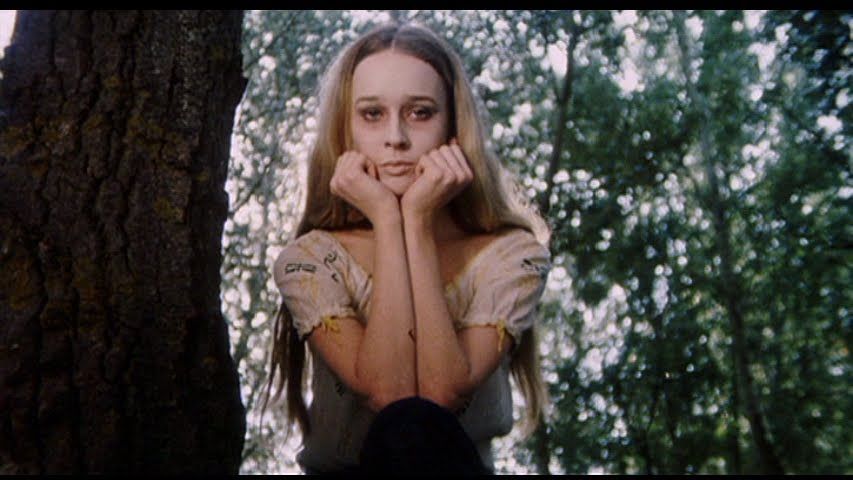 Tragic Ceremony is really nothing more but a horror movie clique from beginning to end.  However, Tragic Ceremony becomes an interesting watch by seeing how a master director takes the cliques and transforms it into a visually stunning film full of dark imagery and atmosphere.