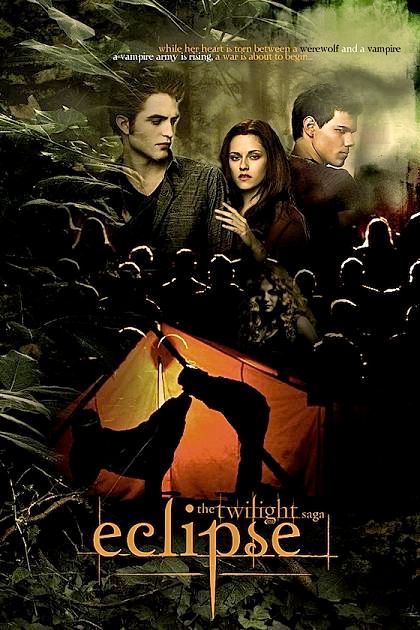 By now all the Twitards have probably gone and seen Eclipse, the latest film in the Twilight series, about two or three times already.  Love it or hate it, there is no denying that the Twilight franchise, based on the books by Stephanie Myer, is the biggest pop culture phenomena since Harry Potter.  Personally I am very conflicted to where I sit on the subject of Twilight.  A story about a spineless and pathetic pouty emo kid and her pretentious, emotionally abusive, creepy assed vampire boyfriend isn't appealing to me.  Although I hate fanaticism of any type, I truly don't believe that the Twilight series teaches healthy romantic expectations to the young girls who fantasize that Edward Cullen would break into their bedrooms and watch them sleep at night (that's not romance – that's why sane people get restraining orders).  However, I'd be a liar if I didn't tell you that I love the movies and am itching to go and see Eclipse.  The Twilight films are pop culture popcorn in the same vein of Showgirls or Plan 9 From Outer Space.  How can anybody take the films seriously?  They contain every cliqued film technique ever (how comes Edward always walks in slow motion) and looks like they were edited by somebody's fifteen year old tech geek nephew for a high school project.  If you think that the Twilight films are cinematic masterpieces then don't fool yourself.  They aren't.  However, this doesn't stop the droves of Twitards, clutching their copies of Eclipse to their breasts and squeezing into their Edward Cullen T-shirts, from making Twilight one of the most successful film franchises of the current century. 
Yet, what I am not conflicted on is the fact that I don't dig on the medias' fascination with Robert Pattinsin and Kristin Stewart.  One hundred thousand headlines on these two and not a single story to tell.  Possibly one of Hollywood's dullest celebrity couples, the reason that the couples' romance is such a "secret" to the press is the fact that they are most likely not together at all, which I wont comment on further in fear that a slander law suit will be filed against me (*cough* wiki Rock Hudson *cough*).  They may be pretty, but they are dull, mediocre and leave writers with little to go on but they continue to appear on the cover of every magazine, newspaper and tabloid across the world.  However, perhaps I am a bit hypocritical.  It's not like I don't have my own Twilight crush.  Who I do understand is Ashley Greene who plays the delectable vampire sister of Edward, Alice Cullen.  Look, guys dig vampires just as much as the women do and I've always had a thing for a pretty goth girl.  From the moment I first laid eyes on the impish green eyed blood sucker I felt something that stirred in me that made me understand for a moment just what "Team Edward" and "Team Jacob" has been going on and on about.  Mind you, I wouldn't want Ashley Greene breaking into my bedroom to watch me sleep.  That'd make me think that she might be crazy, and I've already had my fill of crazy chicks.
Although Ashley Greene has been on the pop culture radar since 2008 when she first portrayed Alice in the first Twilight film, she has stayed out of the spotlight due to the media's preoccupation with Rob and Kristin.  As a result Ashley Greene remains to be an enigma herself.  With most fan information on the 23 year old actress being written for fourteen year olds by fourteen year olds…or at least poorly written fluff pieces by media outlets writing articles for people with the attention span of gnats, any concrete information on Ashley is hard to find.
Originally from Jacksonville, Florida Ashley Greene initially aspired to become a model, but due to her short stature of 5'5" she was advised that she was far too short to be a runway model and was persuaded to take acting classes and perhaps try to get into commercials.  Taking a number of acting classes in high school, like most star struck teenagers with dreams of stardom, Ashley headed for Hollywood immediately after graduation and, at age 17, decided to try to get in the pictures.  Her first credited role was in an episode of Crossing Jordan in 2006 and was followed by a seven episode stint on a forgettable sitcom called Desire as well as bit parts in two films, Otis and King of California, which nobody ever saw.  However, still a virtual unknown, luck smiled down on Ashley when after five auditions she won the plum part of Alice Cullen a year later, skyrocketing her to eternal life as a cult film co-star. 
Alice Cullen is, without a doubt, the most interesting character in the Twilight series.  The spunky, perky vampire who can see in the future steals each and every scene that she is in.  Unlike most of the characters in the Twilight series, Alice is likable and without the creepy or pathetic flaws that the other characters possess.  Ashley Greene successfully adds that attractive quality when bringing the character to life, and as a result has her own following of fans calling themselves "Team Alice."  These people may be a minority, but I'm willing to bet that they are more psychologically healthy then your average member of "Team Edward."  Stunningly beautiful with some actual acting ability, Ashley Greene's Alice Cullen is the gem that lives in the shadows of two of the douchiest fictional characters in pop culture fandom.
But will Ashley Greene stay in the shadows of Robert Pattinsin and Kristen Stewart forever?  This year Ashley Greene has suddenly began to come out of the darkness and take part of the spotlight away from her co-stars.  Placed on the "Most Beautiful Women in the World" list  by People Magazine, Ashley Green also appeared in Sport Illustrated's 2010 Swim Suit issue sporting a painted on bikini and has finished filming three films where she will be playing the lead – Butter, Warrior and The Apparition – which are all due to be released in 2011.  Ashley Greene is even getting her image immortalized in plastic this August when Barbie releases the Alice Cullen doll as part of their Twilight Barbie series.  Meanwhile, she was also the subject of some lame ass "internet nude photo" scandal, which was really tamer then a four year old birthday party, but no press is necessarily bad press.  At least it had people talking about her for a millisecond.  She may not be getting all the headlines yet, but time will tell if Ashley Greene will be able to eclipse the fame of her annoying co-stars.  However, as long as she keeps appearing in the Twilight films you can bet that at least this pop culture addict will be sitting in the audience, drooling over his own vampire crush wearing my "Go Team Alice" shirt and…uh…ah….okay.  Lets keep this our own little secret – okay?