Beiber Fever is North America's fastest spreading virus.  It clouds judgment, causes mass hysteria and makes little girls scream.  More deadlier then SARS and gut wrenching then Swine Flu, Beiber Fever has infected an entire continent.  However, just weeks ago the world was given a cure for Beiber Fever.  That cure is Esperanza Spalding.
In mere weeks Esperanza Spalding has become a pop culture hero.  Although most of the world hadn't even heard of her two weeks ago, she has managed to do something that most of us have wanted to do for a long time but couldn't.  Esperanza Spalding smacked that smug little smile off of Justin Beiber's face.  How did she do this?  Well, not only did she surprise the whole world by taking home the coveted Best New Artist Grammy Award earlier this month, but she did it without the use of autotune, million dollar backers or the support of Usher, proving that once again, you don't win awards for being a phenomena with a 3D ego trip in movie theaters.  You win awards for having talent.
All this, and Esperanza Spaulding has better hair too.
So as the Justin Beiber fans scream a mournful cry and begin to vandalize Spalding's web-sites and wikipedia page, the world scratches their head and asks just who is this woman who knocked down the virus in running shoes?  Is she all that good?  Is she mightier then the hype?  Did Justin Beiber get "robbed"?  Well, it all comes down to this.  The difference between Justin Beiber and Esperanza Spalding is that while Beiber had fame virtually handed to him, Spalding has been working for this moment longer then Justin Beiber has been alive.  Esperanza Spalding is a phenomenally talented musician, and the last time I looked the Grammys were all about awarding talent and not popularity – weren't they?
Mastering the stand up bass, which is not the most popular musical instrument on the popular music scene, the exotic and beautiful Esperanza Spalding's music is something that probably isn't going to resonate with the average pop music fan, but manages to push the boundaries of music forward in ways that the pop/rock industry hasn't been able to do in over two decades.  Trained out of smoky bar rooms by master jazz musicians since her early teens, Spalding moans and scats like the love child of Abby Lincoln and Oscar Petersen, as she plays with jazz fusion in a way that rivals even Miles Davis.  Mixing trational jazz with a chamber orchestra and a soul chorus, Spalding's music is familiar, but altogether original.  Her albums reside in the collection of Aretha Franklin and Prince, is a personal favorite of Barrack Obama and has played at the White House via invitation and David Letterman has called her one of the coolest performers he's had on his show. I don't know about you, but that's a much better endorsement then Tiger Beat Magazine.  There is a reason she's won an award for being the best – because currently there isn't really anyone better.
Raised in the mean streets of Portland, Oregon, Spaulding's interest in string instruments began when she watched Yo Yo Ma play on an episode of Mister Roger's Neighborhood.  By the time she was five years old, Spalding had picked up a violin and had already begun to teach herself, and not long after began playing with the Chamber Music Society of Oregon.  Her relationship with the Chamber Music Society would continue until she was fifteen years old.  She also found musical training while watching her mother's jazz guitar lessons, and flirted with the oboe and clarinet before discovering that she naturally jived with the stand up bass upon enterting high school.  Not an instrument traditionally played by female musicians, Spalding's sleek figure and wild hair is a strange juxtaposition for the bass, but she attacks it with a tender, but powerful, touch.  Around the same time Spalding began to write her own songs, as well as cultivate her unique vocal style.  Soon she got her first gig performing in a blues club where she was adopted by the local jazz scene who invited her to sit on rehearsals so that she could learn from real jazz and blues men.  This is where the real heart and soul of music resides.  That is the kind of musical lesson you don't get from a book, or the press of a computer button, or from being a YouTube phenomena.  Backroom jazz is the sweat, blood and soul of music.  Spalding continued to jam with  Portland cats for a year, even sitting in on live gigs.  However, she eventually left the Portland scene to enter the esteemed Berklee College of Music in Boston, and upon graduating in 2005 was immediately hired as a professor.  At age 20 Spalding became the youngest person ever to teach at Berklee.
Spalding released her first CD, Junjo, in 2006 and followed up with Esperanza in 2008.  However, it was in 2010 that Spalding finally had her break out year.  The spotlight finally shone on her when President Obama chose Spalding to perform at the Nobel Peace Prize ceremonies in December 2009.  Later that year she performed at the BAFTA awards in a tribute to Prince alongside Pattie LaBelle, Alicia Keys and Janale Monae.  That summer her breakout album, Chamber Music Society was released to rave reviews, but little attention, despite being featured on The Late Show with David Letterman on two occasions.   Yet while the public at large were obsessed with the pulsing beat of questionable talents such as Enimen, Katy Perry, Lady Gaga and, of course, Justin Beiber, Chamber Music Society began to pick up a devoted following by people who loved, and recognized, unquestionable legitimate music.  Finally all the attention would be directed at Esperanza when she shocked the world at the Grammy Awards and took the statue for best new artist.
Now I know what you may be asking yourself.  Does my praise for Esperanza Spalding lie with my immense dislike for Justin Beiber?  I'll admit that if she hadn't kicked him back down to Earth, I might not have ever had heard of her.  My thumb is not that pressed down on the music scene.  However, thankfully I did.  Chamber Music Society simply blows my mind.  It is everything I love about music, and has given me new hope that something new and innovative is still happening in music.  In an industry full of blasé and nonprovocative music, Spalding's Chamber Music Soceity is a refreshing taste of innovation and experiment.  Although it drifts into the vein of music that is embraced by trend seeking hipsters, Spalding's Chamber Music Society provides a rawness and realness that is sadly lacking in the modern music industry, and that has probably never been experienced by today's pop driven youth.
The reality is that when Justin Beiber grows up, and the three year magic carpet ride is over, and the Beiber fans move on to the next thing, Beiber will have nothing to fall back on except a garage full of Beiber merchandise and a few dusty memories of who he used to be.  Without the producers, music, dancers and handlers bought for him by Scooter Braun, Beiber will have nothing and be nothing.  By not knowing how to make music, he can not make music without the multi-million support group and when the record sales drop off, so does your "friends."  He is not a musician.  He is a product.  Phenomenas are just that.  They are short lived.  However Esperanza Spalding, who has been performing, studying and teaching music for four times the length that Beiber has, didn't need a Braun or an Usher to tell her what to do.  Her music comes from her soul.  Her sound comes from her heart.  Her talent comes form over twenty years of passion for making music.  Esperanza Spalding's music will live on and on.  That's the kind of experience that lasts for eternity.  And, if all else fails, she still has the Grammy.  That's something Beiber can never get back.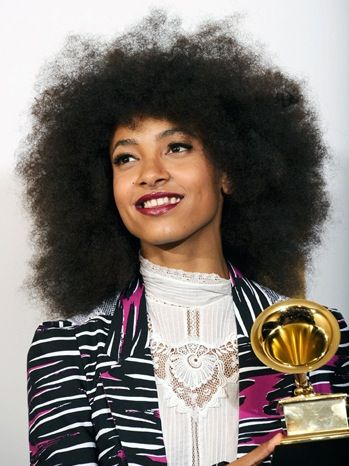 But what I only hope is that while thousands of little girls across North America cry in fury over Beiber's loss, that instead of vandalizing one of Esperanza's web-sites that one will actually take the time to get a copy of Chamber Music Society and listen to it.  That perhaps she'll hear what real music sounds like, and via Spalding's glorious rhythms and sounds that she too will be inspired to pick up an actual instrument and begin to play.  Perhaps she'll know that a real musician goes on stage with an instrument and not dancers.  Only then will there be hope for the next generation of musicians.  Esperanza Spalding is the cure for Beiber fever, and hopefully through her, the next generation will find inspiration from a true artist.