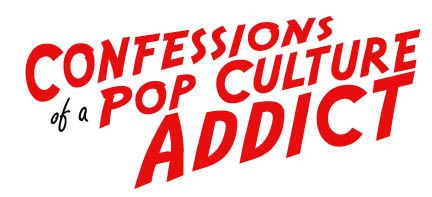 REMEMBERS
CYNTHIA MYERS
1950 – 2011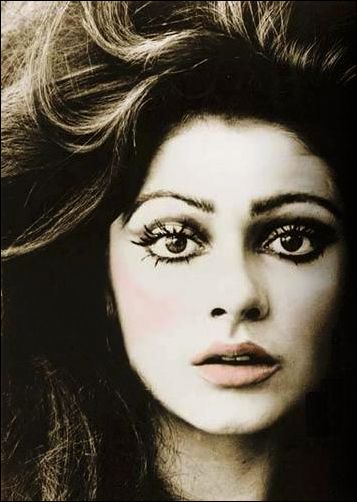 On September 25th, 2011 I wrote the following plea to PCA readers:
"If anybody has reliable contact information for model Cynthia Myers, who played The Carrie Nations' lesbian bass player Casey Anderson, please contact PCA. We'd love to bring all three of The Carrie Nations together again at PCA!"
Having just completed a pair of interviews with actress/models Dolly Read and Marcia McBroom, two thirds of the fictional rock group The Carrie Nations from director Russ Meyer's cult classic Beyond the Valley of the Dolls, I wanted to complete the circle and include model Cynthia Myers' story as part of the series.  One of my all time favorite movies, interviewing Dolly and Marcia, not to mention BVD guys John LaZar and Harrison Page, has been highlights of my career.  To add the last of the three leading ladies for a PCA feature interview would have been both an unique accomplishment, as well as a major thrill for me.  I knew a number of people who knew Cynthia personally and began to try to locate her.  But according to everyone I spoke to, Cynthia was staying quiet.  Eerily quiet.
Then, last week, word finally came about Cynthia from possibly the most reliable source anybody could have asked for.  Playboy mogul Hugh Hefner tweeted the devastating news:
"I'm saddened by the news of the passing of beloved Playmate Cynthia Myers, Miss December 1968."
Upon reading the news my heart sunk into my chest.  I wanted to feature Cynthia Myers at PCA as part of my celebration of Beyond the Valley of the Dolls, but this was not the way that I wanted to do it.
I never met Cynthia Myers, but like thousands of other men around the world, there was something about Cynthia that captured my imagination.  What can I say?  Cynthia Myers "did it" for me.  One of the most beautiful women of the 1960's, for an entire generation, Cynthia Myers was the ultimate sexual fantasy. With her large eyes, soft skin and dark hair, Cynthia etched her image for eternity in the memories of the men who gazed upon her pin-up photos from the classic era of Playboy Magazine.  In the days since Hugh Hefner's announcement, news of Cynthia's death has been tragically overlooked by most media sources, and no word of the cause of her death has been officially made.  However, via Cynthia's former manager and friend Siouxan Perry of Girlwerks Media, I can tell you that Cynthia lost a battle with lung cancer.  She was 61.
Cynthia was only seventeen when she shed her clothes for Playboy's famous photographer Pompeo Poser in 1968.  To say that his camera loved her would be an understatement.  Cynthia Meyers was the image of Snow White, but instead of singing with dwarfs she was doing an erotic pictorial.  Originally from Toledo, Ohio, Cynthia Myers' dreamed about being in Playboy as early as age fifteen and first wrote the magazine with a modeling photo of her in a bikini at sixteen.  Having come to the conclusion that her body and natural good looks was her greatest asset, the lonely girl had been receiving attention for her figure since she was thirteen years old.  Now it is hard to imagine these days that a teenage girl's fantasy would be to become a Playboy Playmate, but back in the 1960's Playboy was a different kind of magazine, and the Playboy Playmate was a different kind of girl.  In a pre-Larry Flint era where the pornography industry didn't exist, Playboy was the guide to the sophisticated male and the girls inside were more titillating then sexual.  They were beautiful, wholesome, almost chaste and the image of what the modern woman was supposed to be.  Due to her young age, Poser's photos could not be released until Cynthia turned eighteen, but in December 1968 men around the world got a memorable Christmas gift from Hugh Hefner and Playboy Magazine.  Donning the cover, lit up like a Christmas tree, was the world debut of Cynthia Meyer.  Her pictorial and centerfold, as Playmate of December 1968, made a huge impression on everyone who saw it making Cynthia one of the magazine's most popular models.  In fact, one of Cynthia's biggest fan base came from boys over in Viet Nam, who hung her pin-ups in their bunk, and carried her photos into combat as they risked their young lives in an unpopular war.  Cynthia became the Betty Grable of her generation, serving as an archetypical American girl which was worth surviving for.
Her popularity didn't go unnoticed and Cynthia was invited to live at Chicago's Playboy Mansion.  Her mother agreed that once she graduated high school she could go but due to the outrage via school officials at her strongly conservative high school,  Cynthia was nearly denied her diploma despite her high grades.  Cynthia's existence in Toledo turned into a cross between Peyton Place and Harper Valley PTA, but she was eventually given her diploma and packed her bags and left Toledo for her new adventures as a Playboy Bunny.  As the mansion's youngest Bunny, Cynthia was too young to serve cocktails so instead worked as a greeter at the mansion's front door.  She was known to be a quiet girl who primarily kept to herself, due to a history of bad relationships with other women which caused her to mistrust others, and instead spent most of her time answering mail that came flooding into the Playboy Mansion for her.  Of course Hugh Hefner took an interest in the beautiful young girl, and he took on a sort of paternal, almost guardian type. role with her.  One of his personal favorites, Hef and Cynthia shared a love for classic film and much of Cynthia's free time was spent watching his personal movie collection.
Eventually Hef brought Cynthia out to Hollywood to participate in his short lived, yet legendary "talk" show Playboy After Dark, where she was one of the young women who beautified the set, chatted with guests and was occasionally featured by Hef.  It was during this time that Cynthia met Burt Lancaster who helped get her a small appearance in Sidney Pollack's 1969 film They Shoot Horses, Don't They?  Determined to try her hand at acting, Cynthia began to study the craft under the guidance of Bruce Dern.  With her soft voice and expressive eyes, Cynthia showed talent, which would come very useful very quickly.
In 1969 sexploitation filmmaker Russ Myers contacted Hugh Hefner and told him that he wanted Cynthia Myers to come to 20th Century Fox for a screen-test.  Despite his notoriety for his controversial b-films that pushed the limits of the censors, 20th Century Fox had hired him to film a 'sequel" to their 1967 blockbuster Valley of the Dolls.  Assembling some of the most beautiful young unknowns in America, Russ Meter set his sights directly on Cynthia for the role of the Carrie Nation's tragic guitarist Casey Anderson.  All three of the girls that Meyer chose for the film's leads added something unique to the picture.  Dolly Read, as Kelly McNamara, was charming and high energy.  Marcia McBroom, as Pet Danforth, was spunky and soulful.  Cynthia Myers, on the other hand,  symbolized tainted innocence and the great American tragedy of indulgence.  The tagline to the film stated "The world is full of them, the super-octane girls who are old at twenty…if they get to be twenty."  This was a direct reference to Cynthia.  Cynthia gave an incredible and daring performance in the film, which was highlighted by the film's most erotic moment – a three minute lesbian sex scene with Vixen's Erica Gavin.  Although common by today's standards, the scene was shocking in 1970, especially in a film made by a major studio.  Beyond the Valley of the Dolls was a financial success for Fox, and it seemed like there would be promising futures in Hollywood for the good looking cast.  However, BVD proved to be too unconventional for mainstream audiences and 20th Century Fox buried the film, and for the majority of the cast mainstream stardom never became a reality.  However, when the film was unearthed and reappreciated in the 1990's, BVD became a cult classic and is considered one of the greatest films of the decade.  Furthermore, BVD brought Cynthia Myers to an audience beyond the Playboy readership, and made her an endearing figure to film buffs and movie fans.
Following Beyond the Valley of the Dolls, Cynthia made one more film, a forgettable western called Molly and Lawless John in 1972, but at the urging of her BVD co-star Michael Blodgett, who she had entered a relationship with, she stopped both acting and modeling and quietly slipped out of the public eye.  Unfortunately, her relationship with Blodgett was a troubled one, and when she left him in 1977 she was a shadow of her once self.  Taking time to discover who she really was and rebuild her life, Cynthia stayed off the radar for another decade until she contacted Hef in the late 1980's to tell him that she was still alive.  Not long afterwards Cynthia was invited to appear at Glamourcon, the world's premier pin-up convention  circuit.  Still stunning decades after her original pictorial appeared in Playboy, Cynthia's admirers had spanned three generations, and the impact that her photos had the imagination of men was as powerful as ever.  In fact, when Playboy Magazine chose their top 100 Playmates of the Century in 2000, Cynthia was voted the tenth most popular of all time.  Out of all the thousands of women who had bared all for Playboy over the decades, being in the top ten proved the lasting impact of Cynthia Myers' beauty.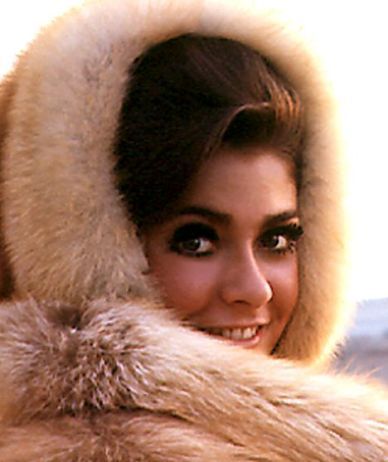 Cynthia's legacy would be further cemented in pop culture history in 2006 when Beyond the Valley of the Dolls was finally released on DVD.  Cynthia, along with other cast members from the film, went on a speaking tour to promote the film.  Meeting with fans, both new and old, Beyond the Valley of the Dolls was finally, at long last, appreciated for all its glory and Cynthia finally got the star treatment as an actress which she always deserved.  Cynthia Myers had laid down the groundwork for a unique cultural legacy as a legendary beauty queen, and unlike many before her, had lived to reap the rewards.
Over time Cynthia's beauty never faded.  As stated, reports of her death have been nearly all but ignored by the media, but the loving tributes over the internet by her friends, her fans, and the people who knew her, have been a testament to the love they had for Cynthia Myers.  Her tragic end has been met with an outpouring of love and tears from her devoted fan base.  Cynthia Myers may be gone, but she will forever live in the pinups of our sweetest dreams.