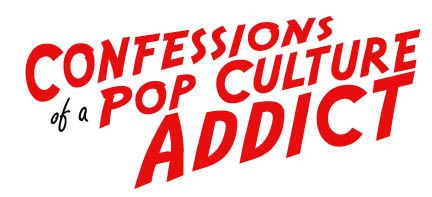 REMEMBERS
MARK DAILEY
1953 – 2010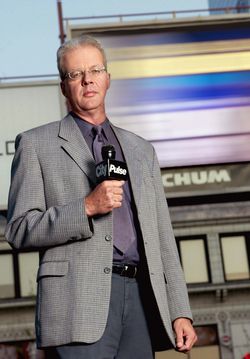 "From the corner of Jane and Finch, this is CityTV – everywhere."
The sound of news broadcaster Mark Dailey's distinctive deep voice was something that Ontario television viewers knew all to well.  It was one of those familiar sounds that you take for granted as just being a part of everyday life.  You never really think too much about it, but the moment it is gone you realize how much you are going to miss it and how nothing will ever be the same again.  Mark Dailey's voice was as familiar to Ontario residents as the sound of birds singing, children playing or the wind in the trees.  It could be warm and quirky or dark and authoritative.  Most of all, it was the distinct sound of CityTV.  Tragically, on December 6th the voice of Toronto was silenced forever.  Mark Dailey lost his battle with cancer at the age of 57.  Now, that voice that was as familiar to us as our own mother's, will never speak again.  The Toronto cultural landscape will never, ever, sound the same way.
When it came to newsmen, Mark Dailey was unlike all the rest.  There was something cool and cutting edge about him.  He wasn't another stuffed shirt that made idle chit chat with his co-anchor or went to "Bob with the weather."  He had a certain big city toughness to him who cut through the crap and told it like it was.  Mark Dailey didn't put up with bullshit.  He was sort of a bad ass.  He was the Clint Eastwood of anchormen.  As a result, Mark Dailey was not only one of the most trusted and respected newsmen in Toronto, but was loved by a more artistic and alternative crowd looking for someone to call their own. Mark Dailey broke all the rules. He wasn't a newsman who only read the news from a teleprompter.  Hell, Mark Dailey didn't even USE a teleprompter.  He didn't even sit behind a desk.  Seated on a high stool in a dark studio, surrounded by monitors, cameras and the background noise of the busy newsroom, Mark Dailey read the news from sheets of paper, his top button unbuttoned, his tie slightly pulled down and his sleeves rolled up.  He read the stories of crime, robbery, murder and arson with a cold, dark tone, channeling Lorne Greene's classic "Voice of Doom" from the golden age of Canadian broadcasting.  However, he wasn't beneath quirky interest stories, where he would put in his own improvised witticisms.  Even his humor had a dry, cutting edge quality to it, proving that while his news broadcasts had a serious tone, Mark Dailey had a wicked sense of humor.  Mark Dailey was cool.  He was a guy you could believe in, a man you can trust and someone you'd want on your side in a bar fight.  If Mark Dailey and Lloyd Robertson got in a fist fight you'd put your money on Mark Dailey – five to one.
Possibly the reason that Mark Dailey was unique compared to his contemporaries was the fact that he knew the mean streets personally.  Originally from Youngstown, Ohio, Mark Dailey studied law enforcement and started his career as a police officer.  Police work wouldn't prove to be what he was supposed to do, and after a brief stint as a truck driver, Dailey turned to radio broadcasting.  With his distinct deep baritone voice, Dailey was perfect for reading the news.  Eventually Dailey left Ohio and moved to Detroit Michigan, the murder capital of America, where he became a crime reporter, combining his new found career in broadcasting with his previous education and career in law enforcement.  In the early 1970's Dailey crossed the border into Canada to work for CKLW TV in Windsor where he gained the attention of Toronto's CityTV who was looking for a new crime reporter.  Dailey made his move to CityTV in 1979 and became a familiar face on the alternative television station for the next thirty years.  In his fedora and long coat, Mark Dailey looked like a classic news man, combing crime scenes and getting the upper hand on competitors via his own colorful background in law enforcement.  Eventually Dailey worked up the ladder, becoming CityPulse's assignment editor, producer and head anchorman and one of Toronto's most respected and trusted television anchormen.
But for most Torontonians it was his signature continuity voiceovers that will possibly always be remembered and missed the most.  CityTV realized that Mark Dailey had one of the best voices in television and they were going to use it for what it was worth.  Dailey recorded program promos, told you what was "coming up next" and, most importantly, provided the voice over for CityTV's famous station ID's.  Cameramen would go out in the streets of Toronto, filming the people, places and faces of the city, and Mark Dailey finished the scene by telling you where it was shot, while often adding his own unique witticism for the quirkier scenes.  "From downtown Toronto this is CityTV…everywhere" (and its different variations) became a familiar catchphrase known by everyone and anyone who lived in Ontario.  Mark Dailey's voice and CityTV went together like bread and butter.  You just couldn't have one without the other.  Nobody else could do those station ID's.  It just wouldn't be right.  It'll never quite be right again.
Personally, my fondest memories of Mark Dailey was his opening commentaries on CityTV's long running Afternoon Movie, Late Great Movies and Late Late Great Movies broadcasts.  In the 80's and 90's, CityTV was the last television station to hold out against satellite movie stations and still show strange and alternative films from the past.  Growing up, I ate these broadcasts up, and many of my all time favorite films, including Billy Jack, The Phantom of the Paradise and Beyond the Valley of the Dolls, where all first seen on one of CityTV's many movie programs.  Mark Dailey would open up the broadcast with his own improvised and often witty and cynical remarks about the film you were about to see.  Dailey would say something like "Tonight on Late Late Great Movies, Frankie Avalon and Annette Funnicelo star in Muscle Beach Party.  Well….I don't know if it's great, but keep watching it anyways."  Mark Dailey was the only man in Toronto television that could question the quality of the movie that viewers were about to watch and get away with it.  CityTV's movie programs were some of the most influential programming that I saw during my youth as I video taped, edited and spliced broadcasts for my own collection.  It was a treasure trove of strange cinema, and shaped me to who I am today, and why I became the pop culture addict that I am.
In 2004 Mark Dailey was diagnosed with prostate cancer.  As a result, he became a vocal advocate for men's health, raising money and awareness about cancer and cancer treatment.  However, in September 2010, in the final moments of his 11 pm new broadcast, Mark Dailey announced to Ontario that he was suffering of kidney cancer.  Within months the cancer moved to his lungs, and ended his life.
The loss of Mark Dailey has been a monumental end of an era for Ontario's generation Xer's, marking the last nail in the coffin of the classic era of CityTV.  Once the most cutting edge television station in Canada, the CityTV of yore has now completely disappeared.  After CityTV's founder, Moses Znaimer, who was not only the heart and soul of the network, but the creative genius behind its alternative appeal, retired in 2003 the legendary CityTV began to fall apart.  Sold to competitor CTV, one of Canada's most soulless and conformist television networks, in 2007, CityTV was forced out of the landmark CHUM building at 299 Queen Street West which had been it's famous and recognizable headquarters since 1987, only to have CTV move into it.  The Much Music window where masses shut down Queen Street to get a glimpse of their music icons was torn out for Ben Mulroney's E-Talk Daily.  The Speakers Corner booth was ripped out, the Electric Circus was shut down, Ed the Sock was fired and the movie programs were replaced by talk shows and reality television.  Now, without the trademark voice of Mark Dailey as the recognizable sound of CityTV, not only do we mourn the loss one of the greatest newsmen Toronto has ever known, we mourn the loss of the CityTV that we watched, loved and remembered.  Not only has Mark Dailey died, so has CityTV.  A double tragedy for Canadian broadcasting.
We'll miss you Mark Dailey….everywhere.