PCA reminds you that the world's best movies are not in the new release section at Blockbuster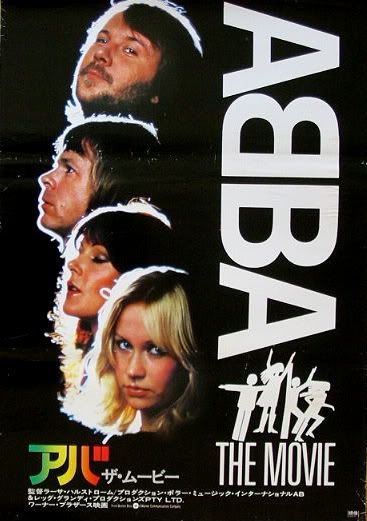 Abba: The Movie (1977) I must admit that I went into Abba: The Movie expecting a little slice of cheese, but was astonished just how much of a culturally relevant documentation of the 1970's the film really was.  Abba?  Culturally relevant?  You better believe it!
Made in the summer of 1977, Abba: The Movie is actually a documentary/concert film with a fictional skelton that holds the film together.  When likeable radio disc jockey Ashley Wallace, played by Australian television actor Robert Hughes, gets the impossible assignment to have a personal interview with Abba during their Australian tour, Ashley follows Abba from city to city in a vain attempt to get time with the group.  Although filled with concert footage, musical performances as well as backstage footage of Abba, the film doesn't end up being about Abba as much as it does the way that Abbamania gripped Australia, not to mention the rest of the world, at the end of the 1970's.  Through his travels Ashley interviews parents, music critics, media experts and fans of all ages about why they love, or in some cases hate, Abba.  As a result you get a potpourri of opinions and images of Abba's influence on pop culture.
What makes Abba: The Movie brilliant is the fact that although he had full access to Abba, Swedish director Lasse Hallstrom strove to keep Benny, Bjorn, Agnes and Anni-Frid as mythical as possible.  Despite getting backstage with them, including a brilliant sequence where Abba read and discuss tabloid headlines about themselves, Hallstrom seeks to keep Abba enigmatic and the viewer never truly gets to know them.  As a result Abba comes off as being untouchable and larger then life.  The real star of the film is Robert Hughes, who is incredibly charming and likeable.  With a quiet and subtle way about him, Hughes hits pitfall after pitfall, while he thoughtfully and successfully interviews Australians about their thoughts and feelings about Abba.  The result is a glimpse of real people, as well as a realistic glimpse of 1970's culture. 
Of course, we couldn't talk about Abba: The Movie without mentioning the music.  Made before the strife and break ups that hindered their later years, Abba is at the top of their game performing some of their biggest hits, such as Dancing Queen, but also performs a number of songs that never quite made it.  My personal favourite is Tiger, which I had never heard before but quickly downloaded afterwards.  Yet Abba: The Movie isn't without the cheesiness you would expect.  Although well filmed, Ashley's dream sequence, featuring Abba performing The Name of the Game, has a dopey smiled Ashley dreamily interviewing Agnes and Annie-Frid and chumming with Benny and Bjorn in a laughable montage. 
Abba: The Movie goes beyond just being an Abba concert film, but is a superb time capsule of 1970's culture.  Why settle for imitations.  I mean, do you really want to listen to Pierce Bronson croak out Abba tunes?  I know I don't.  Skip Mama Mia and pick up Abba: The Movie instead.