PCA reminds you that the world's best movies are not in the new release section at Blockbuster.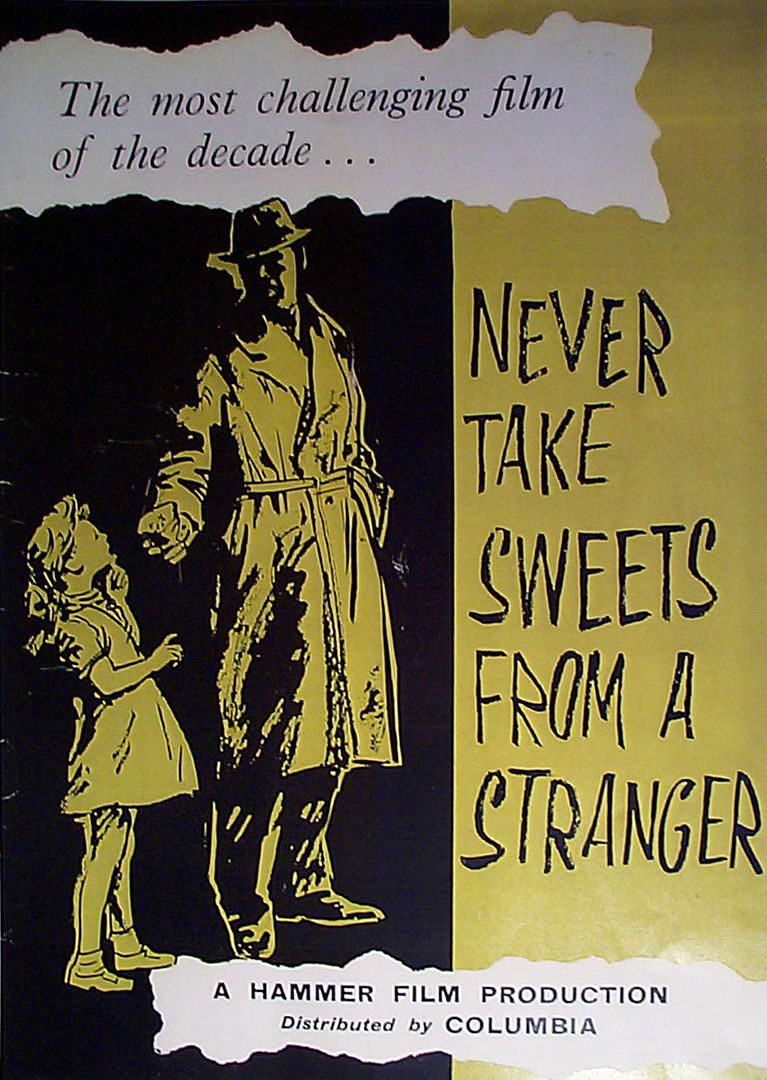 Never Take Sweets From a Stranger (1960) – The subject of pedophilia remains to be a taboo subject in film, although in recent years a number of films, such as Mysterious Skin and Hounddog have been praised for their take on the subject.  However when Hammer Studios released Never Take Sweets From a Stranger in 1960, dealing directly with the subject of pedophilia was unheard of.  However director Cyril Frankel was able to create a cutting edge and tense thriller/court room drama that dealt with the sensitive topic in a direct manner, while still staying tactful and not resorting to exploitation.
Never Take Sweets From a Stranger (retitled Never Take Candy From a Stranger for American release) revolves around the Carter Family, Sally and Peter Carter, played by Gwen Watford and Patrick Allen, and their nine year old daughter Jean, played by Janina Faye, who move from England to a small Canadian town where Peter takes over as principal of the local high school.  The pleasant couple make friends quickly but become alarmed when they find out that Jean and her playmate Lucille visited the home of Mr. Clarence Olderberry, one of the forefathers of the town, who made the little girls remove all their clothes and dance for him in order to get some candy.  The Carters take the matter to the police, but are encouraged not to pursue charges due to the fact that Olderberry's son, Clarence Jr., is the most powerful man in the city.  In time the Carters discover that the citizens of the town have always been aware of Mr. Olderberry's perversion, but have never been able to do anything about it.  Putting their reputation and Peter's job on the line, the Carters refuse to be intimidated by Clarence Jr.'s threats, creating the film into a gripping court drama.
Despite being best known for their horror features, in the early days Hammer Films produced some of the best thrillers in the British cinema.  Never Take Sweets From of Stranger could be one of their finest.  Based on Roger Caris' play The Pony Cart, a cast of virtual unknowns give gripping and tense performances in a story as disturbing now as it was in 1960.  Screenplay writer John Hunter doesn't hold back on descriptions of disturbing activities but, since Jean's first encounter with Mr. Olderberry is not seen by the audience, but only relayed back to her parents verbally, the film didn't upset the censors while still not hiding behind innuendos and strategic wording.  The dialogue is blunt, honest and shocking, creating a powerful punch to the viewer that is still felt.
However, the true horror comes at the climax of the film when Jean and Lucille encounter Mr. Olderberry for a second time.  Their plight through the woods is suspenseful and well paced.  Felix Aylmer plays the role of Mr. Olderberry completely mute, which furthers the tension by not having the character get bogged down in unnecessary dialogue.  Aylmer is brilliant in his portrayal of a child molester, reminding us that the scariest monsters are not vampires or werewolves, but are the sex offenders that are so human that they can live in our own town.
Never Take Sweets From a Stranger is a groundbreaking film which, for some strange reason, has wallowed in obscurity for decades.  Recently released as part of a box set of Hammer thrillers, Never Take Sweets From a Stranger remains to be a powerful and timely film, which is appropriate to be shown to children and inspire discussion about the reality of sexual predators.