PCA reminds you that the world's best movies are not in the new releases section at Blockbuster.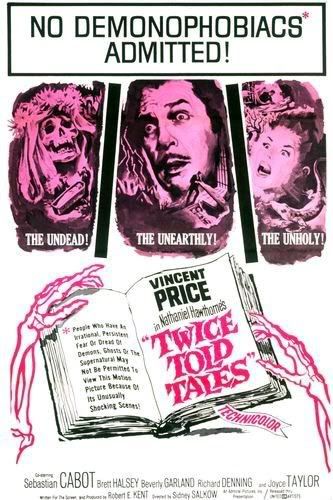 Twice-Told Tales (1963) Riding high on the success of Roger Corman's adaptations of Edgar Allen Poe's gothic tales, AIP turned its attention to the macabre stories of Nathaniel Hawthorne in this anthology film.  To bring Hawthorne's stories to life, AIP brought AIP horror mainstay Vincent Price to play the antagonist in three chilling tales of horror, betrayal and romance.
 
The first story, "Dr. Heidegger's Experiment" features Sebastian Cabot as Dr. Heidgegger, a lonely man who still mourns the death of his beloved fiancée thirty years ago.  When he and his life long friend Alex, played by Vincent Price, discover a magical water leak in a crypt, Heidgger restores their youth and brings his long deceased bride back from to life.  However, with her resurrection come secrets from the past which threatens to doom the future of the three old friends.
 
The second story, "Rappaccini's Daughter" features Brett Halsey as a medical student who falls in love with luscious Joyce Taylor who he watches in the garden from his balcony.  However, what sort of fiendish experiments has Dr. Rappaccini, played once again by Vincent Price, been doing on his daughter, and how does it prevent the two young lovers from ever truly being together?
The third story, "The House of the Seven Gables" is a stripped down version of Hawthorne's novel.  Price plays Gerald Pyncheon, who returns to his ancestral home in search for a treasure buried in a basement vault.  However, the house is haunted by a vengeful ghost, who seeks revenge on Pyncheon for crimes committed to him by Pyncheon's ancestors, and to reunite two reincarnated lovers, played by Beverly Garland and Richard Denning.
 
I normally don't care much for anthology films, but Twice-Told Tales succeeds where others fail.  Directed by Sidney Salkow, who primarily worked on episodic television, each tale from Twice-Told Tales is quickly and effectively fleshed out in forty-five minute chapters which play like individual episodes of an anthology program with a top rate cast.  Vincent Price is at his hammy best, but adds to the almost fairytale feel to the film.  The superb supporting cast help add a unique sense of depth to stories that would be too short to tell in just a single film.
 
Making the film an odd curiosity is that while each tale is essentially a horror story, all three of Hawthorne's stories double as horrific love stories, where the lovers, in most cases, are doomed by their passion for one another.  But although the stories are full of twisted romance, Twice-Told Tales is not without its chilling moments.  Corpses, necrophilia, murder and walls that drip blood are only some of the shocks in this well made and perfectly paced film.  Twice- Told Tales is a welcomed break away from AIP's Poe series, and a gem in the gothic horror genre.