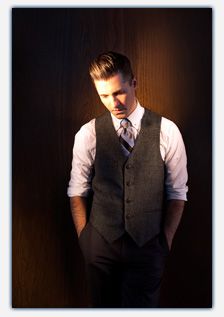 In a music scene full of questionable talent and electronically distorted vocal tracks, thank God musicians like singer/songwriter Royal Wood still exist.  With his classic good looks combined with vintage suits that makes him look like he walked out of an episode of Mad Men, Toronto based Royal Wood is the type of musician that the world needs more of – talented, intense, intelligent and real.   Since the release of his first EP, The Milkweed, in 2002, Royal Wood has been charming audiences and proving that the art of the singer/songwriter is still very much alive. 
Growing up on a farm near the small community of Lakefield, ON, Royal Wood was born a "musical prodigy," tinkering with the piano as early as the age of four.   By high school Royal could play a variety of instruments and began writing songs.  It wasn't until he was attending McGill University in Montreal that he finally put it all together and introduced his music to the public, emerging out of nowhere as a savior from the banality of Top forty radio.  In the years since he has released a series of critically acclaimed albums, has been heard in heavy rotation on CBC Radio and his music has been featured in a number of films and television programs, most notably in an episode of Grey's Anatomy.
This summer Royal released his fourth album, The Waiting, which has gained critical approval and has helped increase his cult following amongst audiences looking for something a little more insightful in their music.  His most personal album yet, The Waiting consists of songs about lost love, self examination and other passions.  Currently on his own headlining tour, Royal Wood has been selling out theaters across Canada since September.  I spoke to Royal on the road to Ottawa during the final leg of his tour where we talked about The Waiting, life on the road and his journey in the music industry.
CONFESSIONS OF A POP CULTURE ADDICT PRESENTS
WAITING FOR ROYAL: 
A CONVERSATION WITH ROYAL WOOD
I spoke to Royal Wood via phone on November 15th 2010.
Sam Tweedle:  So you've been touring across Canada for a few months now.  How much longer is the tour?
Royal Wood:  We have five or six dates left.  I feel like I'm lost in the middle of it.  We did the Eastern portion first, and then [we went] out West, and now we just started working on the Ontario/Quebec portion.  I've already done some [shows] in Ontario and we've  just got to finish that off, and throw Montreal in there.
Sam:  How long has this tour been?
Royal:  It started in September.
Sam:  Is there a difference between audiences out West  compared to Ontario?
Royal:  I don't think there is just a difference between out West and Ontario, I think there is a difference from city to city.  You can play in Edmonton and then Medicine Hat and it is a totally different show.  Winnipeg is drastically different from Edmonton. 
Sam:  Why is that?
Royal:  It changes so much depending on what the art scene is there, as well as what is monetarily and financially going on in that city.  If the city has a little more wealth then there seems to be more tickets sold.  Because it is such a big urban city, and because there is so much going on there,  I sometimes find that Toronto audiences are somewhat standoffish.   Not cold, but they want to be impressed.  Since they see so much you really have to bring out the big guns [in Toronto], where as on the East coast they just want to have a good time regardless of what the show is.  It's all about that friendly "We're all one/let's have a good time" mentality that I adore.
Sam:  Now this may sound strange, but every time I listen to The Waiting I immediately want to sit down and write letters to every woman I ever loved and lost. 
Royal:  (Laughs) Well you're not far off from feeling those things.  When I was writing that record I had just gotten into my thirties and there was definitely  that shift of my frantic twenties where everything is a blur and you go from relationship to relationship and are pretty focused on yourself.  When I hit my thirties I finally committed to someone and made a real choice to have someone else in my life.  To really open up and not have it be all just be about myself.  That all just spewed itself out.  [The Waiting] is basically a diary page  onto a record.  Before I hid behind metaphor and poetry and didn't let that much out.  It was a pretty big shift in me to be that honest.
Sam:  You've done a pair of videos from the album so far – Do You Recall and On Top Of Your Love.  When it comes to videos, you have always been part of some intense work.  The video for Juliet (from 2005's A Good Enough Day) has to probably be one of the saddest videos ever made.
Royal:  I think we definitely  touched a chord with that one.
Sam:  Your new video for Can You Recall is beautiful.  That was filmed in Iceland?
Royal:  Yes, we shot that in Iceland.  We were there for six days and shot it over the course of three or four days.  A couple of guys had the unfortunate task of lugging that piano all over the cliffs.
Sam:  Are you getting a big response off of that?
Royal:  I don't know how important video is anymore in terms of "video television."  They don't really play videos much on television anymore. It's all reality TV and everything else.  Its definitely  good for just having a visual for press and on-line presence, and for fans to connect visually to a song.
Sam:  I was surprised to read that you were originally from Lakefield.  I grew up in nearby Peterborough but I don't remember you in the local music scene when I was in my twenties.  We could have used a guy like you compared to some of the awful shows I was dragged to.  Where were you hiding?
Royal:  I didn't do anything in Peterborough.  I grew up on a farm and played a ton of music at home.  I'd play in my bedroom and dream of being something.  You want to be The Beatles.  I played in high school and all those "battle of the bands" type shows, but it wasn't until I went to University and was living at McGill that I started performing live.  Setting up shows on the little coffee house circuit.  It wasn't really until I came back to Toronto and made that little EP that I felt that I was ready and had my own voice and had lyrically something that I thought was original and wasn't just ripping off whoever I was listening to.  It took a long time for me, personally, to feel that I had developed as a songwriter and I didn't want anybody to hear this until that was the case.
Sam:  How long have you been performing live then?
Royal:  Seven years.
Sam:  On your blog you make a number of references o the difference in your career now compared to "three years ago."  "Three years" seems to be a key time period for you.  What was going on three years ago and how have things progressed?
Royal:  Well three years ago I was balancing my full time day job and my career and there wasn't a second of the day that was given to something.  Part of it was given to a day job that [I could] not stand and it was  just simply to pay the bills.
Sam:  I understand that all too well.
Royal:  Every other waking hour, including my lunch break, vacation days, sick days and weekends, were spent working on my career.  Then I suddenly got to the point that I was touring enough and getting enough income from my music that I finally got to quit in 2007.
Sam:  So there is hope for us struggling artists.
Royal:  Oh yeah. Definitely .
Sam:  The current music scene continually frustrated me today.  I watch award shows where people of questionable talent are honored for their style and popularity instead of their ability as a musician or artist.  Does it ever frustrate you being an accomplished singer/songwriter, but be lumped in with these other performers and to be competing against the pop industry that has taken over the music industry?
Royal:  I think if I spent a lot of time focusing on it it would upset me because we all have an ego.  We all want to be successful in our own craft.  For the most part I really feel [music] was what I was born to do.  It is all I've ever known and all I've ever desired is to make music and art.  So the fact that I can do it successfully and actually have it pay the bills makes me personally feel that I have a successful career.  It may not be comparable to others, but I am successful in my own mind.
Sam:  The thing is about what you do is that it is honest.  The art of the singer/songwriter hit hit's zenith in the 1970s.  It disappeared for a while.  Do you feel that there is a resurgence happening today?
Royal:  I think it is coming back but I also believe that music coming from an honest place, or legitimate music that is not mediocre and not pushed through protocols or autotune, is also going to havea rebirth.  I think its not going to be a "cottage industry."  I think there is going to be unique little niches of artists that exist and will have successful careers.  They may not be known to the mainstream but they will certainly be known to their loyal fan base and they will have careers for the rest of their lives.
Sam:  So have you been happy with the response over The Waiting?
Royal:  Yes.  No one really buys records anymore so it was never a question of that.  I was more concerned how it lead to press, which thankfully has been on my side.  Getting the open slot for the David Grey tour was incredible for me.  To follow that up with my own headline tour which has had a lot of sell outs at big theaters has been a dream tour and its been consistently successful.
Sam:  Yeah, well that's why I didn't get to go to your Peterborough  show.  I couldn't get tickets because both nights were sold out.
Royal:  (Laughs) Sorry about that.
Sam:  That's alright.  My loss is your success.
One of the most talented song writers currently recording music in Canada, success is something that Royal Wood rightfully deserves.  Royal finishes his tour on Friday November 26th in Toronto, Ontario at the state of the art Queen Elizabeth Theatre.  Tickets are still available and can be purchased via http://www.roythomson.com/eventdetail?eventId=624.  Don't miss your opportunity to see one of Canada's most exciting and genuine performers.  Also, for more information on Royal Wood, including music, lyrics, tour dates and his personal blog, check out http://www.royalwood.ca/.