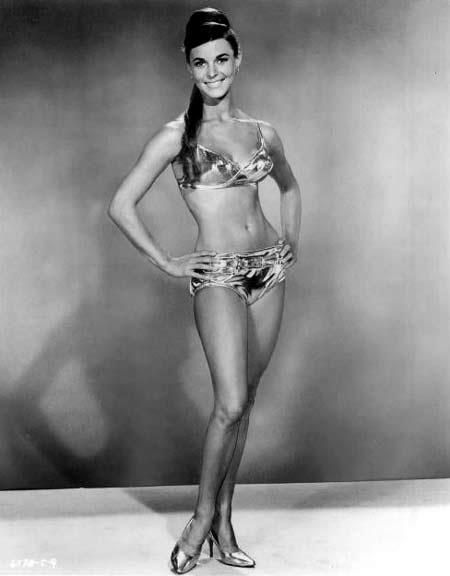 Growing up in Ontario, part of my summer tradition was centered on the week when Toronto's CITY-TV would air American International Pictures' legendary Beach Party series, starring Annette Funicello and Frankie Avalon, every afternoon for an entire week.  These campy free-for-alls of music, surf, bikinis, and fun were little gems from another time, and I never missed them.  They weren't necessarily good films, but they packed a pleasurable punch that made an impact in my pop culture psyche.  But beyond the films regulars, the superstar cameos, and musical guests, true die-hard fans of the Beach Party movies would also recognize the gang on the beach who rarely took center stage.  The same lanky chisel-jawed surfers and buxom girl in bikinis were brought back for each of the films, making them recognizable faces in the crowd.  The kids on the beach were more than just extras.  They were part of the gang, each gaining their own fan following.
I had teenage crushes on a lot of the girls in the Beach Party movies, but probably none was more obscure than beautiful Salli Sachse.  With her long hair pulled back in a tight ponytail, I scoured the group shots and party scenes for glimpses of her.  If you looked long enough you'd ultimately find her as she floated through the entire line of AIP teen comedies.  Beyond making appearances in Muscle Beach Party, Bikini Beach, and Beach Blanket Bingo, Salli appeared in Frankie Avalon and Dwayne Hickman's campus comedies Ski Party and Dr. Goldfoot and the Bikini Machine; Annette's Frankieless Beach Party sequels Pajama Party and How to Stuff a Wild Bikini; Frankie's solo outing Seargent Dead Head; and Annette and Frankie's only film together which was entirely unrelated to the Beach Party series, Fireball 500.  But when AIP dropped Annette and Frankie from their line of films, Salli continued to make small appearances in other films.  She stepped up as one of the supporting players in The Ghost in the Invisible Bikini, played a biker "mama" in The Devils Angels, and in her most stand out role, played the psychedelic "Freak Out Girl" in Roger Corman's cult LSD film, The Trip featuring  Peter Fonda.  Meanwhile, Salli became a familiar face on magazine covers, print ads, commercial spots and television.  One of the most beautiful women in 60′s b-cinema, Salli defiantly knew how to stuff a wild bikini.
But Salli Sachse's story goes far beyond just a girl in a bikini who never found anything more than cult stardom; a genuine member of the surf subculture, Salli came into the film industry out of circumstance, but her beauty and charm lit up the screen every time she appeared.  However, shortly after her career began, Salli's life was struck by tragedy which thrust her into a dark despair.  In an attempt to rebuild her life, Salli left her budding acting and modelling career behind.  Living amongst some of California's most famous musical acts of the sixties for a while, Salli eventually found her true calling as an artist.  Reinventing herself and returning to the seaside home of her youth, Salli's art is inspired by the images that have been part of her past and present, making her still a visible part of beach culture.
Through a series of circumstances, I came into contact with Salli during some research I was doing on another AIP actress and was flooded with memories of watching the beach films during those summer afternoons of my youth.  I was thrilled when Salli agreed to tell me about her show business past and her journey back from despair to artistic tranquility.
READ FULL INTERVIEW