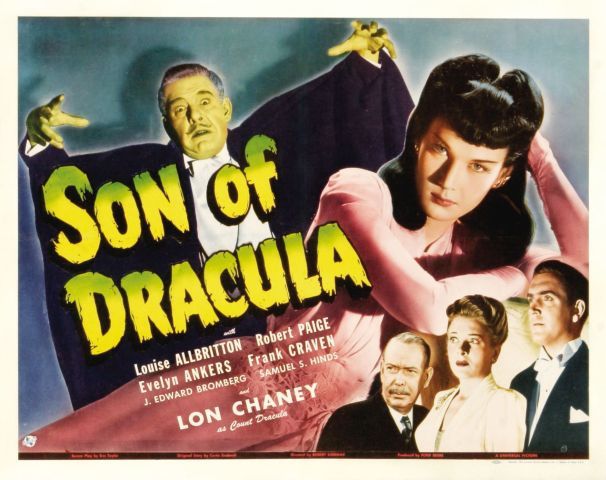 Son of Dracula (1943) –In 1943 reluctant horror icon Lon Chaney Jr. would make one of the boldest moves in his career and step into Bela Lugosi's cape and bring Dracula to America in Son of Dracula.  The third official Dracula film for Universal, Son of Dracula would be the second to have Dracula in the film (the famous vampire didn't actually appear in 1936's Dracula's Daughter staring Gloria Holden).  Although Chaney suffered from extreme miscasting as Dracula, Son of Dracula remains to be the most unique of all of Universal vampire films, with a strange heroine, a bizarre love triangle and some of the groundbreaking "firsts" in vampire film history.
Eccentric plantation heiress Katherine Caldwell (Louise Albritton) is living a double life.  Although engaged to be married to long time boyfriend Frank Stanley (Robert Paige), Katherine has been secretly cavorting with the mysterious Hungarian Count "Alucard" and meddling around with the occult and other forces of darkness.  On the night of Count Alucard's arrival to the New Orleans plantation at Katherine's invitation, the patriarch of the family, Cornel Caldwell (George Irving) mysteriously dies of heart failure.  However, was it a natural death, or could that giant bat that was floating around his room have something to do with it?  Katherine receives ownership of the estate while her younger sister Claire (Evelyn Ankers) receives the family fortune.  Almost immediately Katherine shocks her family and friends, and especially Frank, when she marries Dr. Alucard.  Demanding answers, Frank confronts the couple at the plantation, but after unloading a round of bullets into Alucard, the vampire continues to stand while Katherine, who was standing behind him, slumps to the floor dead.  In a state of shock and emotionally distraught, Frank turns himself in to police, but when the authorities, accompanied by Dr. Harry Brewter (Frank Craven), investigate they find Katherine very much alive, and she and Alucard announce that they plan to live their lives as recluses, demanding that the investigators never to return to the plantation again.  But Brewster already has his suspicions of the truth about the strange Dr. Alucard (he can obviously read backwards), and as he investigates further, the truth about Alucard and Katherine's sudden romance comes out, with surprising and tragic results for all involved.
When Universal decided to film an official sequel to Dracula featuring the title character again (despite being called Son of Dracula, there is never any question in the film that the character is the one and only Dracula himself), Bela Lugosi had just turned sixty and, as far as the producers were concerned, far to old to be playing the Hungarian count.  Despite being incredibly miscast, Lon Chaney would have naturally have been the logical choice at the time considering that he had the distinct honor of playing all of the Universal monsters, including The Wolfman, The Frankenstein Monster (in Ghost of Frankenstein) and the Mummy (in The Mummy's Tomb), Chaney's presence in a Universal monster film was almost expected.  Ironically, Chaney loathed being typecast in Universal's monster pictures, but by being under contract to the studio he was forced to do them over and over again.  The son of the fabled "Man of 1000 Faces," Lon Chaney Sr., who was America's first horror film superstar, Chaney Jr. started his career under his birth name Creighton Chaney.  Despite the fact that he barely knew his father, Universal wanted to cash in on his heritage and forced him into his father's shadow by not only changing his professional name to Lon Chaney Jr., but despite a promising career as a dramatic actor designated Chaney to it's horror films throughout the 1940's.  Despite his dislike of making horror films, Chaney was incredibly gifted at the majority of the monster roles that he took on.  The only exception would be the role of Dracula.  Physically wrong for the role, and sprouting a thin "Clark Gablesque" moustache, Chaney doesn't even bother to make any attempt at doing a European accent.  Chaney is clumsy and looks depressed in the role of Dracula, and it is obvious that he is having a miserable time.
However, Chaney's portrayal of Dracula would make its mark on film history as being the first vampire in the history of film to transform into a bat on camera.  Long before CGI was even a glimmer in man's imagination, special effects wizard John P Fulton came up with the near seamless effect, which is still fairly effective by today's standards.  Fulton would go on to win the Academy Award for special effects in 1957 for The Ten Commandments when he helped Carleston Heston part the Red Sea.  Curiously enough, Chaney's Dracula is also the first screen vampire to have supernatural strength, and in one scene lifts Robert Paige off of the floor and throws him across the room.  Universal would drop this from Dracula's set of powers, and superhuman strength would not return to vampire films until Christopher Lee put on the cape and fangs in Hammer's Horror of Dracula in 1958.  Son of Dracula would be the only time that Lon Chaney Jr. would play a vampire in his career and Universal had the good sense to pass the role onto John Carradine for Dracula's next two appearances in House of Frankenstein and House of Dracula.  Mind you, Lon Chaney Jr. was busy reprising his classic role of the Wolf Man in those films.  Ironically, in Abbot and Costello Meet Frankenstein, the final Universal horror film to feature the classic monsters, Bela Lugosi once again returned to the role of Dracula the age of 66. proving that he was never to old to play the character, and he was still the best actor for the role.
Yet despite the debacle of miscasting Lon Chaney Jr. as Dracula, Son of Dracula actually belongs to actress Louise Allbritton in the role of Katherine Caldwell.  Eerily beautiful, Caldwell becomes the true star of the picture and carries the entire film on her shoulders.  Not only is her character the most interesting role in the film, as the movie begins to twist and turn you realize that she is even more diabolical then Dracula himself.  Dressed in white flowing gowns and filmed stumbling almost trance like through creepy swamp land, Allbritton's plays one of the most interesting femme fatales in all of Universal horror history, although her performance, as well as place in the horror hall of fame, is unjustly overlooked.  The daughter of a widowed rancher, Louise Allbritton set her sights on Hollywood after studying journalism at the University of Oklahoma and got a regular gig performing at the Pasadena Playhouse.  Eventually Allbritton caught the attention of a talent scout from Columbia Pictures and made a number of forgettable flops for the studio.  She eventually moved over to Universal where she made two dozen films, with her only notable film being Son of Dracula.  Louise Allbritton never seemed to find her unique place in Hollywood and was passed along to different B-pictures before fizzling out into television.  By 1964 Allbritton's career was over, and she married CBS news war correspondent Charles Collingwood, who she stayed with until her death in 1979.  Son of Dracula would be Allbirtton's only horror picture, and by her standout performance it is clear that she could have been an early scream queen icon.  Universal truly missed a chance by not utilizing Allbritton's talents throughout their classic horror films instead of wasting them on screwball comedies and unmemorable dramas.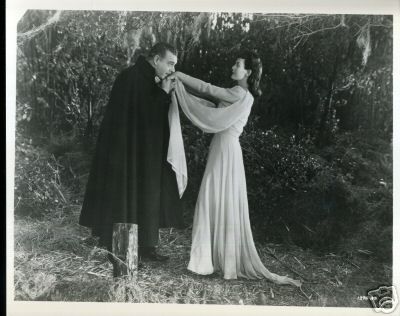 Son of Dracula is not one of the greatest of Universal's horror classics, but it is one of the most unique, and well worth watching.  If not only for the novelty of seeing Lon Chaney Jr.'s one and only performance as a vampire, Son of Dracula has a decent plot full of twists and intrigue, and director Robert Siodmak knows how to create one heck of a creepy little film on a limited budget.  Finally, the secret location of Dracula's coffin is one of the most interesting places the Count has ever hid it.  Despite its flaws, Son of Dracula it is still a solid watch.  There may be better vampire films, but there are a hell of a lot worse.