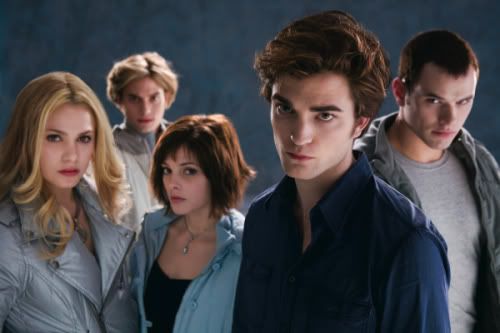 Ah that Edward Cullen.  I tell ya, there's a boy who sure knows how to get a girl's blood pumpin'.  He's a virtual expert at everything he does, has god like good looks and is, most importantly, undead.  Isn't that just what every girl wants?  Well, a million Twilight fans can't be wrong because Edward Cullen and his vampire clan have become the idols of millions all over the world and that brooding vampire pretty boy just knows how to make a girl swoon.  I have to admit that even I have bought into the phenomena and found Stephanie Myer's first novel nearly impossible to put down…and if I didn't admit that I might have just a tiny crush on Edward's "sister" Alice then I'd be a total liar.  Yet Edward Cullen is just the latest in a long line of vampire anti-heroes that have found their way into the hearts of fans.  It wasn't all that long ago that girls were swooning as Sarah Michelle Gellar was lusting after Angel, the vampire with a soul, and snogging her arch nemesis Spike on Buffy the Vampire Slayer, and prior to that Anne Rice's vampire Lestat had overthrown Dracula's reign as the king of the fictional blood suckers.  The fact is, chicks just dig vampires.  However, long before Robert Pattinson, David Boreanaz, James Marsters or Tom Cruise, the first vampire to capture the hearts of the female audience wasn't a beefcake.  He was more of a meat pie.   But despite being already "over the hill," and having a slight resemblance to Mr. Bean, Canadian stage actor Jonathan Frid suddenly was hanging on female fan's bedroom walls in the guise of his vampire character Barnabas Collins from one of TV's weirdest day time soap opera of all time, Dark Shadows.
Yet, while most 44 year old actors would find the attention of young girls flattering, for Jonathan Frid, his iconic role was a worse curse then any that his character's scorned lover Angelique could have put on him.  Jonathan Frid was an "actor's actor," and as a result of his newfound popularity when he joined the cast of Dark Shadows in 1967,  Frid found himself standing in the shadow of the vampire.  A shadow he desperately wanted to escape, but could not.  As a result, he aimed scorn at his role as TV's first vampire lover, which has stalked him ruthlessly for the rest of his life.
Despite his own inner hostility towards his character, Jonathan Frid was a true trendsetter in gothic entertainment, creating the prototype of the tortured vampire anti-hero that has become one of the most popular romantic heroes of today.
Come as we look at the life of Jonathan Frid – the man, the monster, the actor, and the vampire curse that has followed him as
CONFESSIONS OF A POP CULTURE ADDICT PROFILES
JONATHAN FRID:
THE CURSE OF BARNABAS COLLINS
Jonathan Frid's entrance into acting was not by any means unusual.  Born into a wealthy family in the Canadian steel mill town of Hamilton, Ontario, Jonathan Frid was attending a prep school when he heard of a casting call for the school's production of The Rivals of Sir Anthony Absolute.  Despite his shyness, Frid auditioned and got the lead, and found a power and a presence on the stage unlike anything he had never known before.  Almost like a man possessed, Frid dedicated the rest of his life to the theatre.  Entering theatre studies at McMaster University, Frid also became a member of Hamilton's Player's Guild, in which he earned many local awards for his work, most notably for playing roles decades older then his actual age, as well as for playing villains.  Joining the navy for a short while near the end of World War II, Frid returned to McMaster University and became the head of the school's drama society before graduating in 1948.  Setting his sights towards the European stage, Frid entered London's Royal Academy of Dramatic Arts, where he trained for another two years before returning home to Canada.  Setting himself up in Toronto, Frid turned his attention to radio, studying in Lorne Greene's Academy of Radio Arts, between acting gigs on the Toronto stage where he was beginning to gain the attention of theatre critics.  By 1954 Frid had left Canada and relocated to the US where he received his Masters in Theatre at Yale University, and began to study directing.  However, as his popularity on the stage grew, and demands for Frid's talents increased, Frid left directing behind to become a full time actor.  Jonathan Frid had a love for the stage.  He believed that real actors did theatre.  Not movies and not television.  Television actors and movie stars were not real "actors" in his mind.  If you didn't learn your craft on the stage then you weren't truly an actor at all.  Frid took pride in his ability to change roles and characters from production to production.  His greatest fear was typecasting and by carefully choosing his parts, Frid was able to avoid typecasting on the stage.
However, even Frid couldn't ignore the dawning of the TV age.  When the Canadian Broadcasting Company first launched television broadcasts at the beginning of the 1950s, Jonathan Frid found his first television roles as stock players to some of the CBC's popular dramatic productions.  These programs were never anything more then just televised stage productions, and Frid's never found any level of popularity as a result.  Thing was, the only people watching those televised productions were the few people up north who had only one channel and were nothing more then captive audience.  Cabin fever on a cold night will get you to watch just about anything.  However, fate was about to deal a new hand of cards, and Frid's career on television was just about to begin.
Throughout the 1960's Frid became a popular Shakespearean actor, but decided that he would like to become a theatre professor.  Traveling to different campuses, Frid began to organize workshops with theatre students throughout Canada and the US, when in 1967 he finally accepted a job at a California theatre school.  Unfortunately, he would never make it to the school.   Upon returning to his home in New York from a lengthy tour of Hostile Witness, Frid received a call from his agent.  If Frid was interested, his agent had secured him an audition to appear on an unpopular soap opera called Dark Shadows.  The job was only to be thirteen weeks.  The role?  A vampire named Barnabas Collins.  Frid was intrigued by the idea.  Gothic drama was not yet a popular genre on television, and the idea of bringing a vampire to a daytime soap was definatly unique.  Frid agreed to take the role.  It was, of course, only going to be a few weeks, and he saw it as a way to earn some extra money before relocating to California.
Premiering on ABC-TV in 1966, Dark Shadows was something distinctly different for daytime television.  Revolving around the Collins family, Dark Shadows was a daily serialized "telenovel" which told about the eerie dramas that took place in the fictional town of Collinsport, and especially at Collinwood Manor.  However, the sinister series was not catching on with typical housewives, who were still more interested in the mundane melodramatics on As The World Turns and Guiding Light.  Fearing cancellation, series creator Dan Curtis was looking for something different.  Something very different.  Something that would attract attention, and seduce the interest of a younger audience.  Something that had never been done before.  The answer was easy.  Vampires.  Everybody loves vampires.  But, it must be noted that up until then vampires were still a rarity on television.  In fact, the only other vampire that had appeared regularly on a TV series up to that point was Al Lewis' lovable Grandpa Munster of the comedy series The Munsters.  Dark Shadows' vampire was going to be much different.  He would be dark, tortured, dangerous and mysterious, Curtis was looking to put a new kind of bite on daytime television.  So when classically trained actor Jonathan Frid walked into the casting room with his sunken eyes and dark brooding looks Curtis knew he had found his Barnabas.
Frid made his first appearance on Dark Shadows on March 22, 1967.  Crawling out of a crypt that had foolishly been opened by Willie Loomis during a night of graverobbing, Barnabas Collins walked onto the pop culture journey, and into the hearts of fans all over North America.  To say the least, Curtis' gamble had paid off.  When word got out that there was a vampire on Dark Shadows, viewership tripled nearly overnight and suddenly Dark Shadows was one of the highest rated programs on ABC.  Yet, unlike the rest of the daytime soaps, the Dark Shadows audience was distinctively much younger.  Teenagers started skipping school just to watch the program, and Dark Shadows became a popular program on college campuses all over North America.  Letters began pouring in clamoring for more Barnabas Collins and suddenly offers by companies wanting to license Barnabas Collins and Dark Shadows merchandise started to emerge.  I mean, that was something.  Days of Our Lives wasn't going to have a plastic model kit made by Aurora.  Yet, even more strange, was that with the show's demographic quickly became teenage girls, suddenly Davy Jones and Peter Noone were finding their posters being replaced by that of a much older, and less boyish, Jonathan Frid.  The first goth TV icon was born.  Thus, when Frid's thirteen week contract came to an end the producers of Dark Shadows knew that they couldn't let him go.  Overnight Frid had become the show's icon, and they knew without him the new popularity of the program would disappear just as fast.  Extending his contact and giving him a substantial pay raise, the producers sweetened Frid's contract so that he would be crazy to turn it down.  Reluctantly Frid cancelled his California plans and sold his soul to daytime television.  As a result, he would never escape the shadow of Barnabas Collins.
In his role of Barnabas Collins Jonathan Frid set up the framework for the tortured vampire anti-hero which has been copied time and time again to this day.  Cursed by a scorned lover in the 18th Century, vampire Barnabas Collins walks the Earth in search of a cure from his vampirism…and love!  However, unlike the vampires from horror films, Barnabas Collins was the first popular vampire to take no delight in his condition, and instead tortured himself with an inner anguish towards the monster that he had become.  Sound familiar?  David Boreanaz made an entire career out of that schtick.  Anyhow, in a 1968 radio interview Frid described his take on establishing the difference between a monster and a vampire by saying "In real life, I find that monsters are people. We are all monsters to one another at some time or other.  You catch a friend not telling the truth, or you are suddenly suspicious of them, you all of a sudden see a new glow in their faces–a new look.  Now that's what I call a monster.  Anyway, my face, my voice reflected my emotions of nervousness and tension; I could have done anything at that moment.  I think that this is what established the character [on the] first day."  With his combination of intensity and a talent that rarely was seen on television, girls didn't care if Frid wasn't the dream hunk of their fantasies.  His brooding and tortured portrayal of Barnabas Collins won their hearts.
However, while the whole world seemed to love Barnabas Collins, there was one unlikely person who quickly began to loath the character – Jonathan Frid.  As Banabasmania raged on, and as the Dark Shadows cult following grew, Frid realized that his greatest fear of being wedged into the role of a single character had been met.  He began to hate the fact that his work on a television series was beginning to gain more notoriety then his work in the theatre.  To him, television was a medium for imbeciles.  His daily commitments to Dark Shadows also took him away from the stage, and his heart began to ache for the theatre.  In cooperating with the show's producers by making public appearances, Frid would find himself mobbed by fans, forcing the actor to become reclusive in order to protect his privacy.  In time, Frid began to hate the vampire.  Taking the role of Barnabas Collins was changing the course of his career in a way Frid felt that was below him.  He had trained to be an "actor" and not a fleeting sensation.  However, in 1970 Frid made his movie debut when he brought Barnabas Collins to the big screen in the first Dark Shadows feature film, House of Dark Shadows.  Retelling a condensed version of the original Barnabas Collins story, but told with more gore and violence and a far larger budget, House of Dark Shadows was an instant hit, and Barnabas Collins was introduced to an even wider audience.  Thus, not wanting to bring more attention upon the vampire, when a follow up film was planned for 1971 Frid refused to appear in it.  As a result, Night of Dark Shadows focused on Dark Shadow's newest hunk, the much younger David Selby, who played werewolf Quentin Collins.  Selby had managed to take some of the attention away from Frid after being introduced on the show, and as far as Frid was concerned he could have it.  Night of Dark Shadows did well, but without Frid's presence the film made only a fraction of what House of Dark Shadows did.
Yet, by 1971 Dark Shadow's ratings were starting to slip dramatically, and combined with a number of other questionable factors, Dark Shadows was slated for cancellation.  Seeing the light at the end of the tunnel, Frid accepted the role of Thomas Beckett in a New York production of T.S. Eliot's Murder in the Cathedral and decided to leave the series prematurely.  However, the producers begged Frid to stay for the remainder of the series.  Frid accepted, but only on his terms.  There was no way he was going to play the vampire.  If he was to remain for the final weeks of the show he wanted the chance to play a different character.  Thus, the writers wrote one of the shows famous "flashback" stories where characters traveled to the past to witness the bloody history of the Collins family.  In his final weeks on Dark Shadows Frid played ancestor Bramwell Collins.  On April 2nd, 1971, after 1125 episodes, Dark Shadows came to an abrupt end.  With Frid still in the role of Bramwell Collins, fans felt cheated that they never had a chance to properly say farewell to their vampire idol.  However, mentally and emotionally Jonathan Frid was on to other things.  After an incredible 596 episodes of Dark Shadows Frid had finally slayed Barnabas Collins.
Or had he?
Unfortunately for many TV icons, the memories of their most famous roles linger in the hearts and minds of the public that adored them long after the program ends, and in the months that followed, Frid found his stage productions overrun by Dark Shadows fans looking for an up front and personal glimpse of a vampire instead of the roles that Frid had signed on to play.  Furthermore, the only parts that he seemed to be able to get in film and television were as sinister or tortured characters in horror films, as seen in a 1972 TV movie The Devil's Daughter and 1974's Seizure.  While Seizure became a landmark film by being the directorial debut of Oliver Stone, it would also mark the end of Jonathan Frid's career on screen.  He would never return to television or movies again.  Frustrated by typecasting and fans that could not accept that he wasn't Barnabas Collins anymore, Frid decided to leave acting altogether, hoping that if fans didn't see him that the Dark Shadows hullabaloo would finally fizzle out.  Relocating to Mexico, and then returning home to Canada, Jonathan Frid totally disappeared from the pop culture radar for a few years.  However, his forced exile didn't last long, and by the end of the 1970's Frid had returned, once again, to the stage.  Yet, despite his exile, Dark Shadows fandom had not died out.  It was becoming as eternal as a vampire's curse.
Yet, in his years of separation from Dark Shadows fandom, Frid began to understand the phrase "If you can't beat them, join them."  Finally coming to terms with the fact that the reason he was an icon was because of Barnabas Collins, Frid decided instead of seeing the vampire as a curse, that he would use its popularity as a tool.  When Dark Shadow fan clubs started holding gatherings and conventions during the early 80's, Frid began to show up with a new kind of performance.  Armed with classic literature and theatrical works, Frid began to give lectures and dramatic readings to audiences, often using Barnabas Collins and the world of Dark Shadows to illustrate ideas and lead as segways to introduce a whole new audience to the great literary and theatrical productions of the world stage.  Intelligent, engaging and compelling, Frid's readings became popular amongst fans, as well as gained attentions of those who had never seen Dark Shadows before.  Forming his own production company in order that he could devote his time to these productions, Frid developed a series of "one man shows" during the 80's, beginning with Jonathan Frid's Fools and Fiends, and following it's success with Jonathan Frid's Fridiculousness, and Jonathan Frid's Shakespearean Odyssey.  Furthermore, in 1987, Frid found himself on the Broadway stage playing Jonathan Brewster in Arsenic and Old Lace, alongside fellow TV icons Marianne Ross and Jean Stapleton.  As a result of having such favorite pop culture icons on the stage together, the production was a smash hit and ran for ten months.
In 1994, at age 70, Jonathan Frid once again returned to his home of Hamilton and announced that he was retiring.  Yet, while an actor can retire from the theatre, you can never take the theatre out of his blood.  Throughout the 90's Frid continued to develop his reading series for charity, and give an odd reading once in a while.  Yet, for the most part Jonathan Frid has been quite quiet, choosing to sink into obscurity then relive the gory days of Barnabas Collins.  However, in 2008 Frid made a pair of rare appearances at Dark Shadow gatherings in Los Angeles and New York in celebration of the program's 40th anniversary.  Entertaining the audience with another of his trademark dramatic readings, the appearance of Frid was a rare treat for fans.  Yet, reports said that little had changed.  Frid was still bothered by the attention given to Barnabas Collins, and not necessarily the most cooperative of guests in attendance.  To the very end, Jonathan Frid believes that he is a thespian, and not a vampire.
Despite the fact that the series has been off the air for over thirty five years, Dark Shadow still has a strong cult following, and Barnabas Collins has attempted to rise from the dead many times over the years.  In 1991 a new weekly version of Dark Shadows appeared on NBC with actor Ben Cross in the role of Barnabas.  However, unable to interest viewers in the same way the original did, the Dark Shadows revival lasted only twelve episodes.  Later, in 2004, the WB attempted to fill the vampire gap left by the loss of the Whedonverse by filming another new Dark Shadows pilot with Alec Newman in the role of Barnabas Collins.  This time they weren't even able to sell the pilot.  However, in 2009 Hollywood superstar and long time Dark Shadows fan Johnny Depp purchased the Dark Shadows rights from Dan Curtis' estate and announced that it was his life long dream to play Barnabas Collins.  Recruiting regular collaborator Tim Burton to direct the feature, the pair plan to bring Barnabas Collins back to the big screen in 2011.  Time will tell if this production will see the light of day.  However, while others have tried to resurrect the vampire, Jonathan Frid may never be able to escape the shadow of Barnabas Collins,   Yet, whether it is a curse or a blessing, Jonathan Frid's portrayal of Barnabas Collins created the prototype for the vampire anti-hero.  He is the godfather of them all.  Without Barnabas Collins there would never have been a Lestat, an Angel or an Edward Cullen.  Perhaps the hearts and minds of female fans that swoon for the vampire's bite has moved from away from the stodginess of Jonathan Frid and to the boyish good looks of Robert Pattinson, but the pop culture journey will never forget that long before there was a vampire called Cullen, there was one called Collins.