With vampires being a dominate part of today's pop culture industry, it is hard to imagine a comic book industry without the bloodsucking villains and dark brooding supernatural anti-heroes.  However, there once was a time when comic publishers were scared to publish comics featuring vampires due to the domineering fist of the Comic Code Authority.  Everyone it seemed, except for one rouge company – Gold Key Comics.  Most famous for publishing family friendly comics based on cartoon characters from the Disney, Hanna-Barbera and Looney Toons franchises, in 1968 Gold Key Comics stuck the middle finger up at the censors and obtained the rights to bring the adventures of Barnabas Collins, the vampire star of the gothic soap opera Dark Shadows, to comic books.  Although the Dark Shadows comic book was not approved by the Comic Code Authority, Barnabas Collins would not only prove to be the first anti-hero vampire in pop culture and the first traditional vampire on a weekly television series, but he would also become the first vampire to star in his very own comic book series.  This month, just in time for Halloween, Hermes Press releases its first volume of reprints of Gold Keys classic Dark Shadows comic books in Dark Shadows: The Complete Original Series Volume One, representing the first seven issues of Barnabas Collins' comic book adventures.
The comic book witch hunt of the 1950's, and how it shut down the horror and crime comic industry, most notably dominated by EC Comics, is an old story that has been told many time.  In an attempt to purify comics, the Comic Code Authority proclaimed the following rules in 1954 to crush the content of horror comic books:
General standards—Part B
(1) No comic magazine shall use the word horror or terror in its title.
(2) All scenes of horror, excessive bloodshed, gory or gruesome crimes, depravity, lust, sadism, masochism shall not be permitted.
(3) All lurid, unsavory, gruesome illustrations shall be eliminated.
(4) Inclusion of stories dealing with evil shall be used or shall be published only where the intent is to illustrate a moral issue and in no case shall evil be presented alluringly, nor so as to injure the sensibilities of the reader.
(5) Scenes dealing with, or instruments associated with walking dead, torture, vampires and vampirism, ghouls, cannibalism, and werewolfism are prohibited.
These "laws" pretty much prevented any sort of creatures, monsters or ghouls from appearing in comics, which creatively stifled comic companies during the monster craze of the 1960's.  However, very early on, Gold Key, or Dell Comics as it was called in the early 196o's, refused to sign the Comic Code and tried to find ways of dodging the Codes' guidelines on monster comics.  In 1964, under the Dell imprint, Gold Key released a comic adaptation of Universal's Frankenstein movie with great success.  The next year Gold Key released comic series based on both the The Munsters and The Addams Family.  Being a known television properties, the books did well on the stands.  Later in 1966, Gold Key was definitely testing the waters to see how far they could push the envelope when it came to monsters.  Under their Dell imprint  they released three brand new monthly titles called Frankenstein, Dracula and The Werewolf.  However, these books were not horror comics but superhero books based on the mythology behind the original characters.  The books were poorly received by fans and have gone into comic history as some of the worst revamps in comic history and lasted only three issues each.  Yet, with the popularity of the unapproved Munsters and Addams Family comic as well as their reputation for providing wholesome comics via their cartoon books, in 1966 Gold Key became the first major comic company to dive back into the horror comic business with the release of  their long running comic title Boris Karloff's Tales of Mystery.
It was in 1968 that Dan Curtis Productions decided to search for a publisher for a Dark Shadows comic series.  With the TV series becoming a surprise phenomena due to the introductions of vampire Barnabas Collins, played by Shakespearean actor Johnathan Frid, it was natural to monopolize on the series' popularity with a comic book.  Obviously Curtis' people approached Marvel and DC Comics first, but both companies were restricted to the terms of the Comic Code Authority and passed over the offer.  However their loss was Gold Key's gain.  The first issue of Gold Key's Dark Shadows comic was released with a cover date of December 1968 featuring a portrait of  Barnabas Collins on the cover.  It would be the first appearance of a traditional vampire in comics since the days of EC Comics.  The inside of the book was full of material to make the censors from the Comic Code cringe.  The opening page featured a tortured man being bricked up in a wall, a hangman with a noose and the witch Angelique putting a curse on Barnabas Collins.  For a society that had been denied horror comics for decades this was pretty heavy stuff.
The Dark Shadows comics were written primarily by Donal J. Armeson and Arnold Drake.  However, the writers were not regular viewers of the series and had a very limited understanding of the continuity.  As a result, they played loose with details.  In order to maintain a solid continuity of their characters, the writers dissolved the large ensemble cast down to only a handful of characters including their three supernatural characters Barnabas (the vampire), Quinton Collins (the werewolf) and Angelique (the witch).  Other characters that appeared was Elizabeth Stoddard-Collins, Roger Collins, Dr. Julie Hoffman and Professor Stokes.  Curiously missing was the series "damsels in distress" Victoria Winters, Maggie Evans and Carolyn Stoddard, as well as Barnabas' own "Reinfield" Willie Loomis.  Meanwhile, although David Collins appeared on the cover of Dark Shadows #6 he never appeared in any issues.  The writers also avoided having to deal with Dark Shadows' solid continuity and changing status quo by creating stories involving Barnabas' interactions with characters and supernatural menaces that were an extension of Collinsport and did not appear within the TV series itself.  This worked beautifully, allowing creative freedom for the writers to create characters and drama without the restraint of the series bogging it down, and only having to understand the character of Barnabas Collins and not the entire Dark Shadows mythos.  Unfortunately, it still allowed for a number of huge continuity errors, including a series of issues where Barnabas was not a vampire at all!
While most comic series based on TV programs always seem to be lacking some sort of creative quality, the writers on Dark Shadows used their creative freedom and enthusiasm to write horror stories to their advantage and as a result some incredible supernatural stories were published under the title .  Dark Shadows acted more as an anthology book with new characters trapped in horrifying situations with Barnabas Collins somehow being involved either as their tormentor, savior or simply an observer.  Barnabas was also given the strange ability to travel through time, allowing writers to do stories set in the past, and on at least one occasion in the future.  As a result Dark Shadows became one of the best written horror comics of the 1960's.  The series would run for 35 issues, ceasing publication in 1976, five years after the Dark Shadows TV series went off the air!
The Gold Key Dark Shadows book would not be the only version of Barnabas Collins and the creepy inhabitants of Collinwood Manor in comic form.  From 1971 to 1972 a Dark Shadows comic strip ran in US newspapers drawn by artist Kenneth Bruce Bald.  Even more loose with story and continuity, the cast of characters was reduced even further to include only Barbabas, Elizabeth Stoddard and Carolyn Stoddard, along with supporting characters created by the author.  However, despite the further removal from continuity, Bald's masterful art work was superior to that of the imaginative art of the Gold Key series.   Bald's Dark Shadows series was reprinted in 1996 via Dark Shadows' actress Kathryn Leigh Scott's (Maggie Evans) publishing house Pomegranate Press, and is available via Amazon.com.  Dark Shadows would also have a short nine issue run by Innovation Comics in 1992 based on Dan Curtis' unsuccessful 1991 Dark Shadows revival.  The series was never completed due to Innovation Comics going bankrupt in 1993.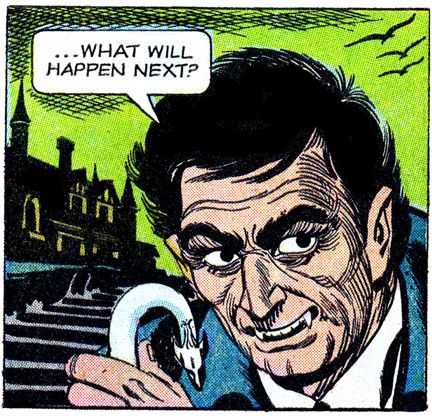 Despite a hefty cover price of $49.99, the Hermes reprint of the Dark Shadows comic series is a rare treat for horror lovers.  Volume One represents the first seven issues of the series to the modern vampire obsessed audience.  The rest of the comic series will be represented in four additional volumes throughout 2011 and 2012.  Beautifully reprinted in a hard covered volume, the book is a must buy for the serious horror comic fan and vampire collector.  The stories are not the graphic tales of horror that are found today via Vertigo or Zenescope, but they are well crafted eerie supernatural stories full of ghosts, werewolves, ghouls and other creatures.  Just as the writers were not die-hard Dark Shadows fans, the book is completely accessible to readers who have never seen Dark Shadows in their life.  Everything you need to know is that Barnabas Collins is a century old vampire that lives at Collinsport with the Collins Family.  From there you can enjoy all seven of these eerie tales.  For vampire fans that miss the days of gothic horror, when vampires were not sparkly emo kids with spineless girlfriends, the return of Barnabas Collins is an event not to be missed.