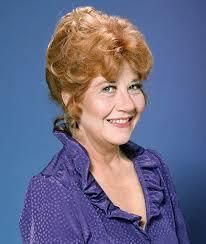 Charlotte Rae was the den mother of the children of the 1980's.  Full of spunk and good advice, every kid wish they had someone as wise and understanding as Mrs. Edna Garret.  Introducing her beloved character in the first season of the groundbreaking all ages sit-com Diff'rent Strokes in 1978, Charlotte Rae made Mrs. Garrett a television icon when she was successfully spun off in her own sit-com, The Facts of Life, from 1979 until she departed the series in 1986.  Playing the house mother to a quartet of sassy private school girls, The Facts of Life was unique as it was one of the first television series to seriously, yet sensitively, focus on the issues surrounding modern young women growing up in the 1980's.  With a wide range of topics including grades, sex, boys, divorce, pregnancy, disabilities and rape, Mrs. Garrett was the calming, but quirky, voice of comfort for not only the girls of Eastland, but to the viewers who watched her each week on television.
Studying theater at Northwestern University in the 1940's, Charlotte Rae had a desire to become a serious stage actress.  However, through the influences of her friendships with future stars Paul Lynde and Cloris Leachman, she soon found success working as a comedic performance.  Relocating to New York after graduation, Charlotte found work in such stage productions as Pickwick, Romeo and Juliet and Lil' Abner.  But when television hit New York like storm in the 1950's, like most actors of the time Charlotte quickly found herself in front of the camera.
In 1961 Charlotte got her first series playing Al Lewis' wife  Sylvia Schnauser in the classic cop spoof Car 54, Where are You?  Although the series would only last two seasons, it would be popular enough to make Charlotte Rae a favorite for writers and producers, which would create a direct line to eventually having the role of Edna Garrett created for her nearly twenty years later.
This winter Charlotte Rae, now 89 years old, released her new autobiography, The Facts of My Life, talking about her life on the stage and screen, as well as the personal trials that she in private.  Written alongside her son Larry Strauss, Charlotte talks about her life on screen and stage, but also about her battle with cancer, caring for her autistic son  Andy, and her heartbreak when she discovered that her husband, John Strauss, was gay in the 1970's.
I had the great pleasure to talk with Charlotte Rae about her life, and some of the things that she talks about in her book.  Although she didn't reveal everything, careful to leave something for the readers, the two of us had delightful and fast paced conversation about her memories as an actress working on the stage, television and movies.
 READ FULL INTERVIEW