Webster's dictionary defines Anhedonia as "a psychological condition characterized by inability to experience pleasure in normally pleasurable acts."  Anhedonia is also is the title of Winnipeg post-punk band This Hisses' sophomore album.  Moody and mysterious, This Hisses combines angst with beauty in their latest release which was released in February 2013.  Formed in 2010, This Hisses is made up of three veterans from Winnipeg's mythical music scene; Julia Ryckman, Patrick Short and JP Peron.  Harnessing their inner darkness, This Hisses has created one of the most unique sounds in the current Canadian music landscape by mixing punk and opera together in one dramatic and delicious juxtaposition.  Sounding like a black angel from a beautiful nightmare, Ryckman's haunting arias are backed by the clashing sounds of Short and Peron on guitar and drums, which have helped This Hisses find their own private niche and receiving rave reviews from independent music critics.  Currently on tour, This Hisses is bringing their intense stage far beyond that of their isolated prairie town to standing room only audiences throughout Canada. 
Leading up to my interview with Julia Ryckman I spent a lot of time listening to Anhedonia, as well as watching videos of This Hisses' stage show.  Captivated by not only the beauty of the band, I was struck by their intensity and, although I rarely get intimidated about doing interviews, at the hour of our scheduled conversation I felt a pressure in my chest as I contemplated how I would be able to find a relatable place between myself and This Hisses' enigmatic goth queen.  Well, I didn't have to try very hard.  Julia Ryckman proved to be as much as a juxtaposition as the music she makes.  Smart and creative, Ryckman is absolutely delightful to talk with.   Julia Ryckman is really really nice.  Quickly swallowing my first impressions, Ryckman spoke to me about This Hisses, Anhedonia and things to come.
Sam Tweedle:  This Hisses seems to be a bit of an enigma.  Is that on purpose?
Julia Ryckman:  No.  I think it's a result of us living in Winnipeg.  Most of our national press has come from this album.
Sam:  And this is your second album.
Julia:  It is.
Sam:  Anhedonia is a peculiar name.  Where does that come from?
Julia:  Well, we're a bunch of artistic people, and our guitar player, Patrick, and I both have degrees in English literature.  Pat threw [Anhedonia] out as a possible title for our title track.  We are not so much people suffering from anhedonia, but the song is about the constant pursuit of pleasure and pursuit of desire and giving into that, and coming up with failure after failure.  So that word suited because it's almost like a poetic frame, without being said in the lyrics.  It sort of implies what if you were to give up that pursuit of pleasure and desire because you couldn't experience it than maybe then you could get on with other things in your life.  It was like throwing in another poetic idea, because we like words and we like evoking different ideas.  Then we thought it'd be a good album title, partly because we wanted to showcase that track, but also because we were planning to release this album in Winnipeg in the middle of winter where, even towards the end of [the season], people seem to be having a hard time.
Sam:  Your sound is incredibly dark, and the term anhedonia seems to play off of that overall feeling of your music.
Julia:  Yeah.  I think it's a lot of things.  The darkness is interesting to us because we never want to stay there completely.  In a lot of our songs we are trying to have that dark wave, but still have that current of sweetness, or beauty, or something else going on.
Sam:  Part of that beauty comes from that incredible voice that comes out of you.  The combination of your voice and the power of the music is like nothing coming out of Canadian music today.  What is your personal background in music?
Julia:  My background is in opera.  I still train, so I've been training operatically for twenty years.  But in Winnipeg, when I was at the point where I was trying to decide where I was going, the classical vocal music scene that I was familiar with was not exciting to me.  I was really interested in avant-garde vocal work.  My brothers were both involved in the Winnipeg punk scene, and I was going to shows and seeing what they were doing and really wanted to start making music.  But because I was trained at singing other people's music, it took me about four years to be able to make my own music.  I love that when I'm making original music that I can be involved in every part of it.  I can be playing to a bigger audience then I could have with classical music.  I can make videos and be involved in the visual aspect of it.  I can be in every part of the process, which  was something that I desired more than being in a production where there is a director telling me what they want.
Sam:  How did This Hisses come together?
Julia:  I had another band called The Gorgon which was an all-girl garage band that was doing really well, and then we had a falling out and broke up.  I had four songs that belonged entirely to me that I did not want to lose, so I sat around moping for a while and then I decided I was going to record them.  So I recruited my favorite guitar player, Patrick Short, who at the time was in a band called The Electric Candles, which was, hands down, my favorite band aesthetically.  Hearing some of [The Electric Candles] music, you can see that sound being present in our band, but The Electric Candles is a lot more aggressive.  JP Perron had been in Mahogany Frog and he had always been my favorite drummer.  He is so poetic in the way he moves and [makes his music].  He is just the most emotional drummer I'd ever seen and he happened to have just moved back into Winnipeg a few months before I snatched him up.  I had gone to his house warming and hung out with him a few times and then said "So….what are you doing musically?"  We didn't know if it was going to work but we decided to track the songs and a few practices in we realized it was a sound that worked and a sound we were interested in and knew that we were going to keep going.
Sam:  In Ontario, Winnipeg is thought of as kind of a mythical music scene which we hear so much about.  Is it as alive and wonderful as we are made to believe?
Julia:  I think it is.  I haven't lived anywhere else.  I've only lived in Winnipeg. The thing about Winnipeg's music and art scene is that we don't have those big shows coming in all the time and it's hard to get into those big cities to see big shows.  Minneapolis is eight hours away.  Saskatoon, which isn't a bigger city but is another city, is nine hours.  Toronto is twenty hours away.  So we have to entertain ourselves, and so people really throw themselves into what they do.  And during our brutal winters people are stuck inside and working on things.  I think it's something to do.  A lot of people have a lot of self-hatred about Winnipeg, but I don't know if it's that result or that we purge the people who are looking for greener pastures and got left behind.  But people work here.  People get things done.  We were in Victoria and were playing with this amazing band and I asked them "Can I buy your album" and they said "We don't have an album."  I said "But you guys are really good" and they said "Well, we're on the Island or we were on our boat" like if there was too much to do.  But in Winnipeg there is nothing else to do.  The film scene and the music scene and the visual arts scene collide and there is a lot of overlap in everything that we do.  So it's a large and vibrant scene, and a special scene.
Sam:  What has the response to the new album been like for you?
Julia:  The audiences and fans have been really receptive.  We've gotten fantastic radio play on the college radio stations and we've been charting on the top fifty for the last fifteen weeks.
Sam:  That's fantastic!
Julia:  It's great.  That's our avenue.  That's the main place where our music can be played and get out to people, other than blogs and podcasts.  That's our main way to communicate to people who love music.  That feels really good.  Also, we are just lovers of community campus radio.  JP has a program on CKUW 95.9FM where he plays all vinyl, and has different themes.  For instance, yesterday was all about rain because we had a rainy weekend.  It's a different way to approach music.  But the shows have been great.  All our shows on the Western tour were amazing and its, hands down, the best tour I've personally ever had.
Sam:  What's next for you?
Julia:  We're still promoting this album for a while more.  June is all about the music festivals.  We are working on a second music video.  We are beginning to write, but really this past year has been about this album.  It's been a big process for us and we were involved in every aspect of it creatively, and that has been where our big push has been.  But we've been playing around and thinking about where the next album is going to go.  There's always going to be darkness in our sound, but I think we're ready to take things in a different direction in the next album.  A further progression.  Nothing drastic, but all of our ideas are developing, and we all have side projects that involve keyboards and synthesizers.  I don't know if we are going to bring them into our writing, but it certainly is in our sound more.
Sam:  Do you have a personal side project?
Julia:  I do!  I have three.  I have a side project called Slattern.  That band started because I fell in love with the band Suicide.  It's been a one woman project with lots of distortion and keyboards and drum machines.  I have an old Roland compurythm that I've been using, but I've started having JP from This Hisses come in and do live tracks with me sometimes, which has been great.  I also work with filmmakers and do live extended cinema.  This past March I did an hour long soundtrack to The Adventures of Prince Achmed, which is a 1920 filmed shadow animation by Lotte Reiniger.  Then I have another side project that has been really underground.  It's called Triunfo Do Gato, which translates to Portuguese as "Triumph of the Cat."  It's a duo with an acclaimed actor in Winnipeg named Roberto Vilar.  It is synthesizers, guitar, vocals, beats and I'm presently studying music projection so I can be a little bit more involved with sound design.  These projects go more into the world of indulgent beauty.  There's some darkness, but it's really about my voice and giving me instrumentation that gives me a lot more room for voice than working with a loud guitarist such is Patrick Short.  It's one hundred percent me.  I'm indulging myself completely with Slattern.
Sam:  I think it's important for every artist to have a vanity project.
Julia:  Oh yeah.  You have to be true to your heart and work with all your stars out.
Sam:  So are you dark person?  Are you as dark as your music is?
Julia:  You know, I am not.  JP is not.  He's one of the happiest people I know.  Pat dwells a little bit on the dark side.  He also has the wicked sense of humor.  Myself, I think it's more that when it comes to art, the most interesting ideas are ones involving strong emotions. So whether it be fear or desire or sadness or loneliness, even if you are an upbeat person, those are things you experience.  Because of my background in opera, it's about those dramatic moments.  Those are the arias that I want to sing.  One where something crazy emotional just happened.  It's not exciting to just [sing something like] "I'm driving around in my car, and having a good time."  That's not interesting to me.  I want to think about those moments that meant something to me throughout my life, and all my music is fairly personal.  It may not be literal, but it's very personal.  I have had a very difficult experience in my life this year.  I lost my mother, but you have the choice to sink or swim, and I'm totally swimming.  I'm working through my feelings by working with my music, and writing songs about all the things I'm going through, but in different ways.
Sam:  Well, I must admit that after listening to your album, and watching your video, the idea of talking with you seemed a bit intimidating.  Your persona with This Hisses is so intense, but you seem very down to earth and I find you to be just lovely.
Julia:  This Hisses has a very dramatic live show.  We have our stage show, and when I walk on stage I am not Julia Ryckman.  I have a stage persona.  With all my projects, a switch flips and I become this persona.  That's what happens, and I don't know why.  I got into an altered performance state.  Thought I don't to intend to be intimidating, I do intend to be dramatic.  And although it's true that people tend to become intimidated, people are always surprised when they meet me.  They say "You're so nice.  What?"  I had a very hard time getting dates in this city for a while.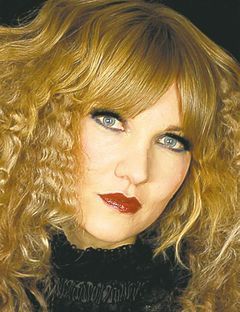 Sam:  Well, as an outsider looking in, go with it because it works.
Julia:  It's the only way I know how to perform.  It's not a choice.  It's a thing that happens.
Picking up where groups like Mazzy Star and Nightwish left off in the 90's, This Hisses has, without a doubt, one of the most original sounds that I has come out of Canadian music in a long while, and created their own original and modern dark sound for the current century.  To discover more about This Hisses make sure to visit their web-site at  http://www.thishisses.com/.
Tags: JP Perron, Julia Ryckman, Patrick Short, This Hisses, Winnepeg, Winnipeg music