The first in a new feature reminding you that good music isn't dead.  It's just buried and you gotta dig for it.
When you turn on the radio, the musical landscape seems to be nothing but a trainwreck, filled with ego over talent, image over lyrics and autotune over musicianship.  But sometimes it takes another Trainwreck to remind you that music is very much alive.  It's just sometimes buried under the debris and charred bodies that litters up the musical landscape.  Since 2009, Los Angeles' Your Favorite Trainwreck has been reminding audiences what good music sounds like by bringing experience, musicianship and solid songwriting to the forefront.  Comprised of veterans from the 90′s California power pop scene, Your Favorite Trainwreck was formed in 2009 by Gameface's Jeff Caudill, and Farside's Popeye V.  Rounding out the band with Robbie Rist on drums and Geoff Holmes on bass, Your Favorite Trainwreck has been bringing the art of writing songs that matter back to a largely superficial industry, and teaching the kids what a real American rock n' roll band is supposed to sound like.
In late 2011, Your Favorite Trainwreck released a thought provoking video for Caudill's alternative country flavored song The Brilliance.  Directed by Geordie Stephens, the video featured the antics of a young George Bush and his road from being a "good ol' boy" to the most powerful man in America in a dynmic, and sometimes disturbing spectacle of indulgence and explosions.  On their web-site, Jeff Caudill explained The Brilliance by stating:
The Brilliance is less a political song than a story about a rich kid who became the most powerful man in the world– not for his steadfast righteousness, conviction, education or drive, but simply because he was next in line to inherit the throne. Maybe he didn't want to take this path. Maybe he didn't think he had a choice. Whether he wanted it or not, entitlement and privilege was his free pass to get away with some pretty questionable behavior. It's interesting what people will excuse or overlook for some, while they scrutinize and vilify others for insignificant or even imaginary reasons. They say that rock and roll is supposed to be dangerous. But it can never be as dangerous as politics.
With a new album soon to be released, Your Favorite Trainwreck is currently kicking it old school by releasing The Brilliance as a single on a German pressed 10" vinyl EP available via Coffeebreath and Heartache Records.  Full of experience and insight as a result of over twenty years in the music industry, I had the pleasure to talk to Jeff about his roots in music, the changing musical landscape, Your Favorite Trainwreck and of course The Brilliance.
CONFESSIONS OF A POP CULTURE ADDICT PRESENTS
YOUR FAVORITE TRAINWRECK:
A CONVERSATION WITH JEFF CAUDILL
Sam Tweedle:  So how long have you been involved in the music industry Jeff?
Jeff Caudill: I don't know if I'd call it the music industry, but I've been doing the band thing since I left high school.  Gameface started in 1990.  That's when I got in a band and started doing it for real.
Sam:  Well what were some of the bands that you were listening to when you started to play for the first time, and inspired you to start writing music?
Jeff:  When I was in junior high I was, of course, into metal and all the things the other kids were into, but when I stumbled across bands like R.E.M. and the college rock thing, it kind of became more clear that [R.E.M.] was the kind of band I wanted to start sometime.  That led to punk rock and that sort of thing.  When I hit high school it was about [bands like] Seven Seconds and Youth of Today and The Descendants and a lot of the straight edge hard core stuff.  That lead to the kind of stuff that Gameface started to do in the 90's.
Sam:  Now I was listening to some Gameface today but I couldn't just put my finger on where it fit in musically, and it is so different then the music you are making with Your Favorite Trainwreck.  How would you define Gameface?
Jeff:  We were like the power pop band that was from the punk and hardcore scene.  We kind of had that punk rock ethos, but we were truly playing power pop.  That set us apart from a lot of the bands that we were playing and touring with, but it also invited a lot of criticism.  [People said] "These guys are a bunch of wusses" and "Why are they playing with punk music."  But we crossed over a lot at that time.  We could go play shows with punk bands, but then do the ska shows.  We bounced around from scene to scene, which was fun and cool, but no one scene that embraced us.  We were always the odd man out.
Sam:  How long was Gameface together?
Jeff:  Thirteen years.  1990 to 2003.  We put out a fair about of albums and toured a lot.  We did all we could in a really underground, independent world where we didn't have a band manager and booked all our own tours.  We kind of did it our own way and we did it long enough to see younger bands doing the same thing, but doing it smarter.  Thats just how it goes.  We were done by 2003.
Sam:  There is a real different sound between Gameface and Your Favorite Trainwreck.  How did Your Favorite Trainwreck come together?
Jeff:  The other singer in the band, Popeye, comes from the exact same scene as I did.  His band was called Farside.  Not to be confused by the hip hop group The Farside.  We were on the same record label and we were friends from way back in the day.  I was a real big Farside fan and we said that one of these days, when we get old, we'd` do a band together.  A few years ago I did a few solo albums and had Popeye play and do a bit of singing on that, and from there we said, "Hey, fuck it.  Let's just go for and start writing together."  Writing together has been pretty gratifying and I've always looked up to Popeye as a song writer.  We've finally put our talents together and it's been really great.  I'm really proud of what we've done.  [The songs} are definitely more mature because we are older and we are expanding our horizons a bit.
Sam:  Do you and Popeye have a similar vision on what the current music scene is like?
Jeff:  I think so.  I feel like I'm a little bit more connected to it since I've been doing solo stuff and doing tours a bit.  Popeye has been laying lower, but we certainly have the same past.
Sam:  How did you hook up with Robbie Rist as the drummer for the group?
Jeff:  Well, towards the end of Gameface a mutual friend of ours introduced us.  I told the friend that I didn't know what I was going to do but I had a few songs that I wanted to just get in and record a solo album.  He said "You ought to hook up with my buddy Robbie.  He's an amazing musician.  He's got a studio."  So he put me in touch with Robbie and after meeting him for about an hour Robbie said "So when do you want to start doing this?"  It happened quick and we got along really well really fast.  So I've been working with him for seven years now.  So we did the solo thing from 2004 to 2008 and then the Trainwreck started in 2009.
Sam:  How did your bassist, Geoff Holmes, get involved with the Trainwreck?
Jeff:  He's been kind of in and out of the scene and he shares our views.  We are all a little older and a little removed from it, so it seemed right to have him there as well.
Sam:  When you say "we're a little bit older and a little bit removed," how has the music scene changed since your days in the power pop/punk scene?  What sort of shift has been made, and do you have a hard time relating to it?
Jeff:  Yeah.  I don't want to sound like the old jaded guy quite yet, but everything has changed.  As I said before, we did tours of the States and Europe as a word of mouth thing.  It was just way more driven by fans and friends.  Now I see the business side of it put in front of the message and the creativity.  I guess I saw that happen in the early 2000's.  It became a real viable business.  It just changed the ways that kids look at doing bands.  The whole culture of that is a lot different.
Sam:  Is the concept of the singer/songwriter dead, or are bands like Your Favorite Trainwreck bringing back a revival of that tradition?
Jeff:  I don't think it has gone away, but the public interest has shifted.  But I think its always been there.
Sam:  I was talking to someone recently who made a statement that kids listening to the radio don't even know what real music sounds like anymore.  Do you agree with that, or do you think its just a cynical statement?
Jeff:  I can't say that kids aren't listening to real music.  I can't really get on that bandwagon, but really, the internet and the airwaves are really flooded with shit.  But that's not to say that there isn't great music being played, and some of that great music does trickle into the mainstream, but its overloaded with a lot of really terrible stuff.
Sam:  Well it's always about weeding through the crap and finding the gems.
Jeff:  Yeah, and that's how I felt about it growing up and finding the music the way I did.  I didn't even have the internet when I was growing up to listen to three hundred bands in an hour, but I would go to the cool "mom and pop" record store and see who's seven inch was on the wall.
Sam:  So late last year Your Favorite Trainwreck put out an amazing video for your single The Brilliance, which is about George W. Bush.  It is an amazing video.
Jeff:  Yeah.  Honestly, I still watch it and I can't believe that we did it.  It was a pretty amazing opportunity.
Sam:  You wrote that The Brilliance is not a political song.  Walk me through what The Brilliance is about.
Jeff:  This is one of the first times where I stepped out and wrote about something that was not about anything in my life, but [something] I was really interested in it.  I wrote the song maybe four years ago.  I've had it kicking around for awhile.  But I was thinking "How does this idiot become the President of the United States?"  But the thing is, it was probably hard [for George W. Bush] to not, given the way he was brought up and the way he was groomed for it, and the sense of entitlement that he grew up with.  That's what was intriguing to me.  It was all kind of laid out for him and he had the key to do whatever the hell he wanted knowing that he was going to be okay.  For me it was really more about the kid with this amazing sense of entitlement, rather then writing a political song.  It is really more about "this guy."
Sam:  The video for The Brilliance is really powerful.  How long did it take for you guys to put it together?
Jeff:  The video itself was shot in a twenty four hour period.  Everything happened fast.  It took a while to get things cleared and edited, but the production company who made it was all them.  The director, and their company, really had their vision.  The director is a friend of mine and said "I really, truly want to make a video for this song.  I feel very strongly about it and I have this vision for it."  They took it and ran with it.  It was from a few weeks from hearing the song to having it fleshed out, and I said "Tell me when to show up and we'll be there."  We were just blown away by the size of the production.  Robbie has worked in film and stuff, so he is no stranger to it, but when I showed up I said "Oh shit.  This is the real thing."
Sam:  You've done other videos before.
Jeff:  Well we've done other videos, but this is the only one which was that professionally done and everything about it was incredible.
Sam:  What sort of response have you had to the video?
Jeff:  The people who have seen it love it.  Again, being a bit older now and being a bit removed from the music scene, I'm not the guy that's always out there peddling my stuff.  I'm a terrible self promoter.  In my heart I hope it does get seen by a wider audience.  At the moment its kind of sitting with our fan base.  People love it, and if it gets the opportunity to reach more people I think people would certainly talk about it.
Sam:  To me, The Brilliance sounds like an Alternative Country tune.  Is that the sound you were going for?
Jeff:  It certainly is an Alt. Country thing.  Popeye brings a little different thing to the table.  We have a full length album in the can, but are waiting to work out some details before we put it out.  There's a bit of variety on the record.  There is a little bit of twang, but there is still a lot of that indie rock also.  Some of Popeye's tunes have more of that classic power pop sound.  Sort of an Elvis Costello feel.  Its pretty eclectic.
Sam:  If you had to put Your Favorite Trainwreck into a specific genre, what would you say you are?  If I had to find you guys in a typical mall record store, where would you be?
Jeff:  I don't even know the categories anymore.  Everything has been so blurred.  I guess we are just an American rock band.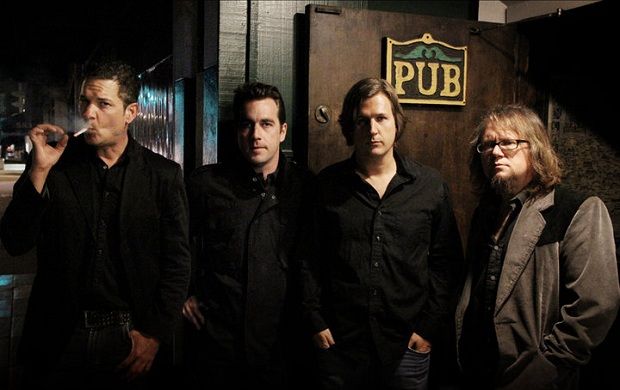 With over two decades in the independent music scene, it is clear that Jeff Caudill knows a lot about being part of an American rock band.  Although he often speaks in the terms of being "an old timer" in a scene where the youth market is primarily the focus, Your Favorite Trainwreck has an edge on the kids by being made up of professionals with years of experience.  One of the best bands I've listen to in a long while, Your Favorite Trainwreck's new album will be out in mid-2012.  For more on Your Favorite Trainwreck visit their official site at www.yourfavoritetrainwreck.com, or follow them on Facebook at http://www.facebook.com/yourfavoritetrainwreck.  You can also preview their music at http://yourfavoritetrainwreck.bandcamp.com/ which has their 2009 EP Demonstration, as well as The Brilliance, available for immediate download.  Finally, visit Coffebreath and Heartache Records to order your own copy of the 10" vinyl EP.  Meanwhile, check out this space for more on Your Favorite Trainwreck for info on the new album as details are released.